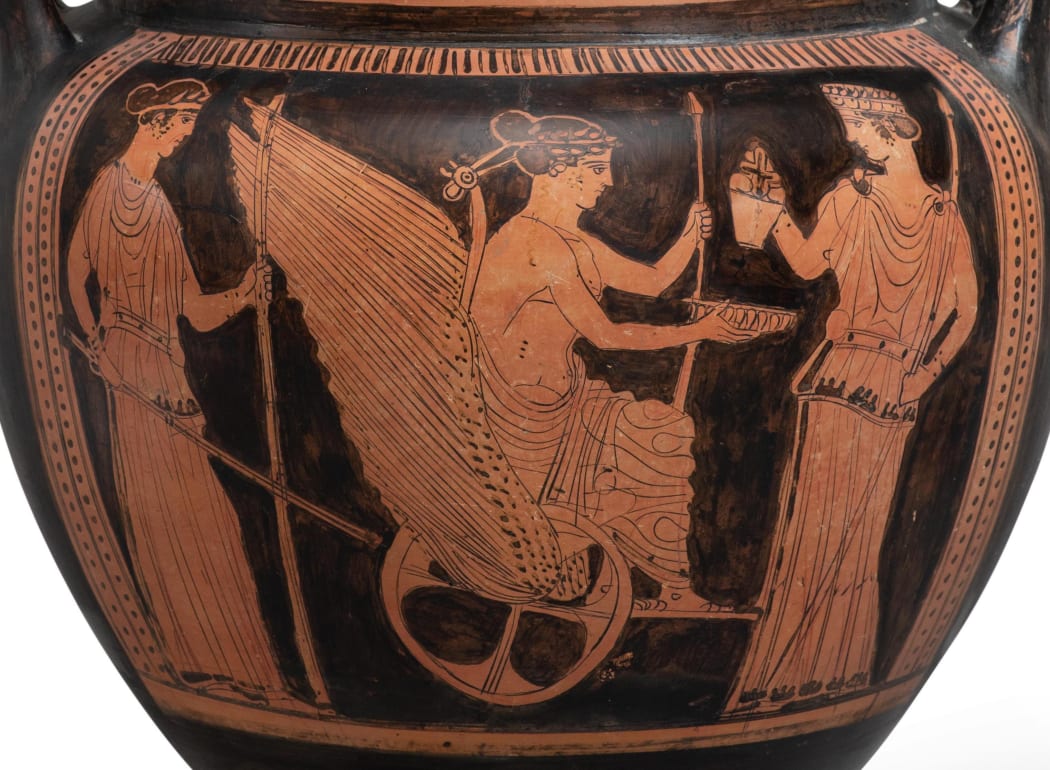 Following on from our insight discussing maenads, the female followers of the god Dionysus, we wanted to look more broadly at the role of female deities in the mythologies, religion and rituals of the ancient world.

Women had an important place in the religions of the ancient world, as priestesses, votaries, and mourners. In Classical Greece women took part in religious festivals, including the Panathenaia to honour Athena, the patron goddess of Athens, and the goddess of wisdom, war and weaving. It is interesting that in a culture of such female social restraint, the goddesses were deemed to be extremely powerful, advising the great Greek heroes of myth and legend, and acting as patrons to major city states.
A GREEK SILVER TETRADRACHM OF ATHENS
SET IN AN 18 CARAT GOLD PENDANT
Classical Period, circa 454-404 BC
AKARNANIA ROSE GOLD SWIVEL PENDANT
Circa 320-280 BC
As part of their role in ritual and religion, Greek women participated in the Eleusinian Mysteries in honour of the earth goddess Demeter and her daughter Persephone. Other festivals were restricted to women, such as the Thesmophoria, the Haloa, and the Skira, all of which, like the Eleusinian Mysteries, focused on the fertile power of women and their importance in rebirth and regeneration. Such myths emphasised the critical importance of traditional female roles, reiterating social values and guaranteeing the survival of society.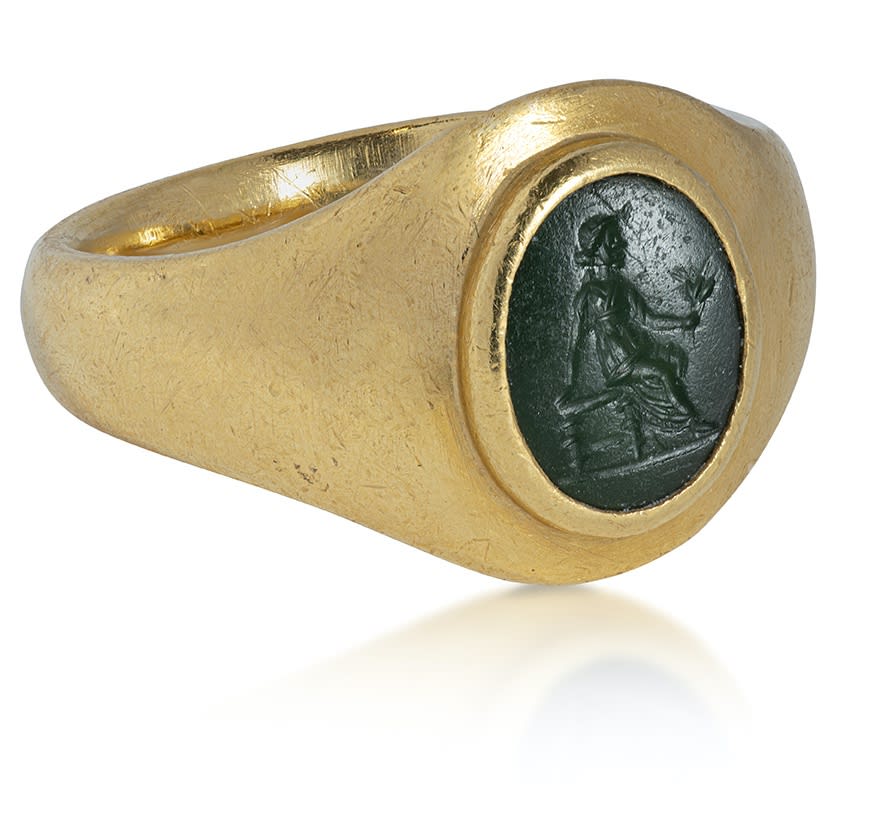 A ROMAN CHROMIUM CHALCEDONY INTAGLIO
OF CERES SET IN AN ANTIQUE GOLD RING
Circa 2nd - 3rd century AD
Ring size: UK K
The concept of female fecundity and regeneration is an intrinsic part of every mythology. Statuettes of women with large breasts and stomachs, found in Çatalhöyük and Hacilar, suggest that mother goddesses were already worshipped in Anatolia in the 7th and 6th millennia BC. Cybele, a successor to these deities was an Anatolian mother goddess whose worship was eventually adopted by Greece and later Rome. In Homeric Hymn 14 she is 'the mother of all gods and all human beings.' The Romans identified her with the Greek goddess Rhea and called her 'Magna Mater'. In votive and cult statuary Cybele is shown with lions, a symbol of her power over wild nature.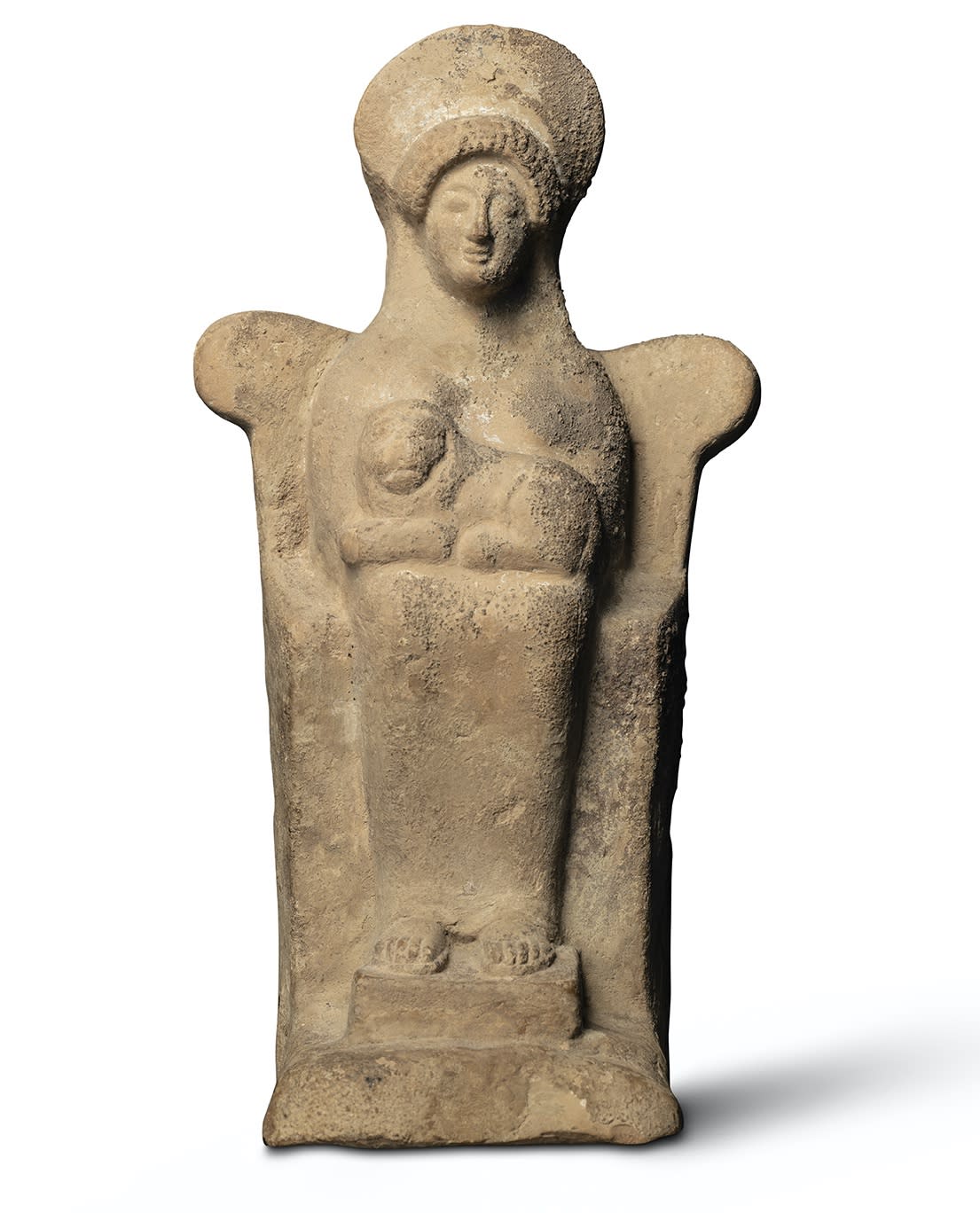 A GREEK TERRACOTTA FIGURE OF A GODDESS, PROBABLY CYBELE
Late Archaic, circa 525-480 BC
Egyptian mythology features a fascinating account of the regenerative powers of women. Isis was married to Osiris, king of Egypt, when his jealous brother Seth usurped his throne and hacked his brother into pieces. Isis was able to reunite the parts of her dead husband's body with only his penis missing. Using her magical powers, she was able to make Osiris whole and nine months later Isis bore him a son, Horus. Isis hid with Horus in the marshes of the Nile delta until her son was fully grown and could avenge his father and claim his throne, becoming the most powerful of the Egyptian gods. Isis is frequently depicted suckling the child Horus and was frequently invoked as a goddess of protection. Yet with her ability to heal and create life, her magic was formidable, transcending that of all the other deities.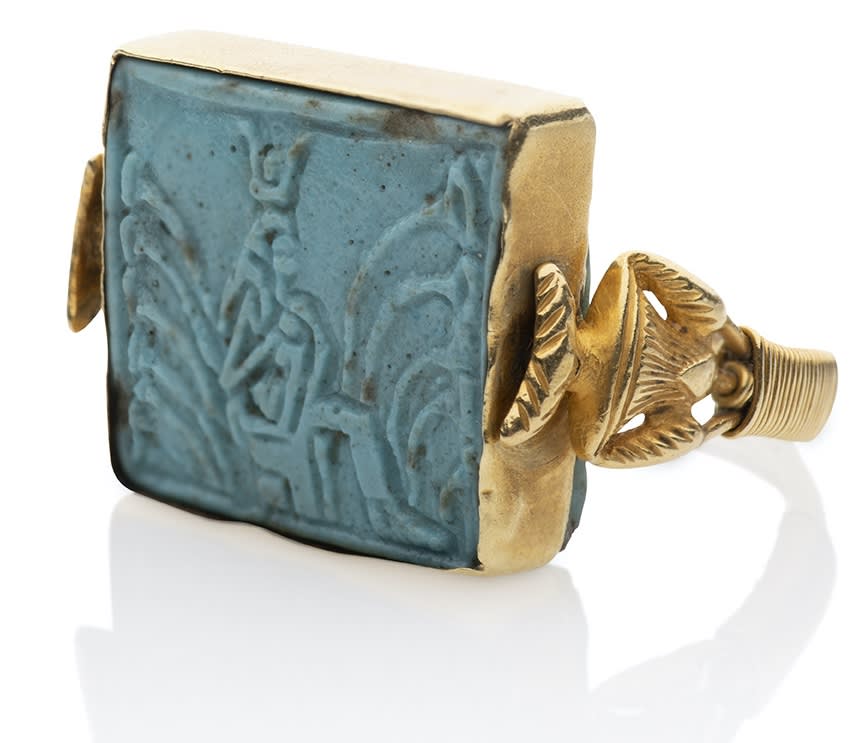 AN EGYPTIAN TURQUOISE GLAZED COMPOSITION
DOUBLE-SIDED AMULETIC PLAQUE
SET IN AN EGYPTIAN REVIVAL GOLD SWIVEL RING
Third Intermediate Period, circa 1070-664 BC
Ring size: UK O; width: 1.8 cm
Although Aphrodite is often shown as a mother, depicted with her winged son Eros, her more traditional role is as a deity of sexual love, fertility, and beauty. Such goddesses were an equally important feature of ancient myth and religion and festivals for Aphrodite/Venus in the Graeco-Roman world, and for Hathor in ancient Egypt, were celebrated annually. The Aphrodisia festivals at Corinth and Athens in Ancient Greece, as well as the Roman Veneralia festival, were an opportunity for the many prostitutes of those cities to celebrate their patron goddess Aphrodite/Venus. The festival for Hathor at Dendera is thought to have involved a great deal of drinking and dancing.
A GREEK BLACK-FIGURE PAGENSTECHER LEKYTHOS
South Italy, circa 330 BC
Height: 22 cm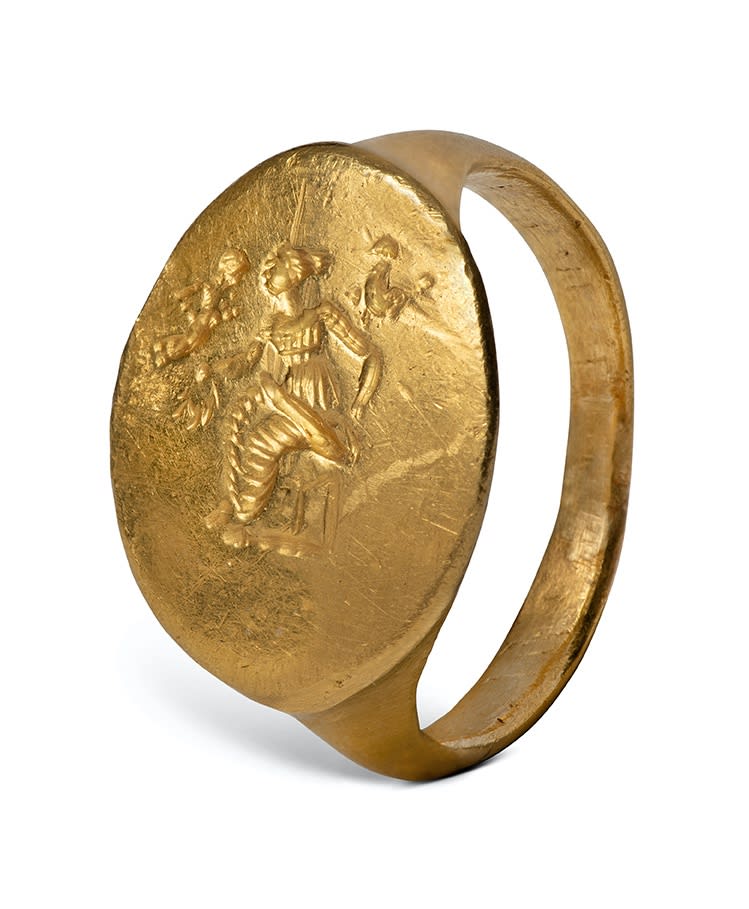 A GREEK GOLD RING
Classical Period, circa 450-400 BC
Width of bezel: 1.8 cm; diameter: 2.2 cm; ring size: P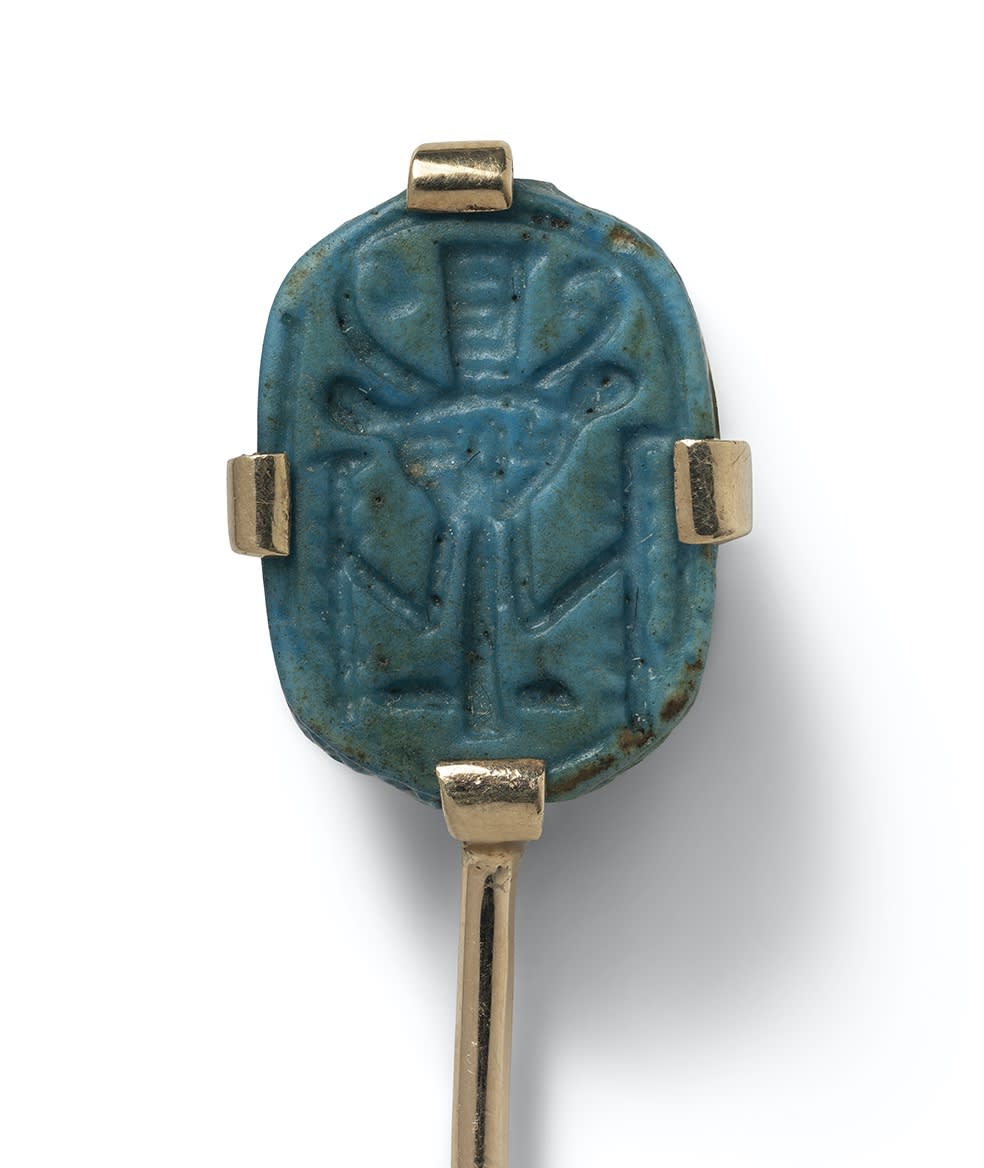 AN EGYPTIAN TURQUOISE FAIENCE DOUBLE-SIDED PLAQUE SET IN A TIE PIN
New Kingdom, circa 1550-1295 BC
There is a great deal to be gleaned about the roles of women in antiquity through examination of the rituals in which they participated, the festivals they attended, and the goddesses they worshipped. The societies of the ancient Mediterranean and Near East generally offered limited freedoms to women, but through ritual activities and religious positions, they arguably leave their greatest stamp on the archaeological record. This may be through their votive offerings, mourning images and funerary goods, as well statuary and inscriptions recording for posterity the roles they played as priestesses.