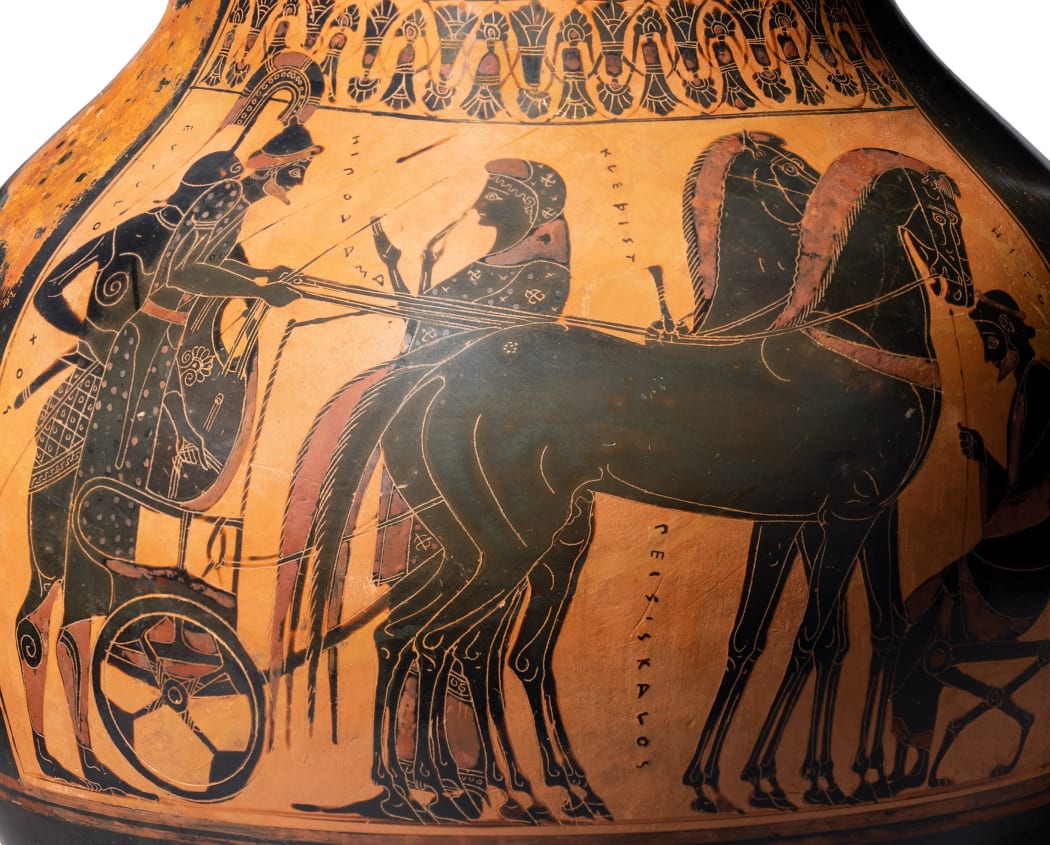 The farewell scene of a warrior departing to battle is a frequent subject of Attic vases in late Archaic and Classical Greece, indicating a significant preoccupation with war and military service during this period. Such imagery first appears on black-figure vases, where epic heroes and mortal Athenians alike depart to war in chariots.
AN ATTIC BLACK-FIGURE AMPHORA OF TYPE B,
ATTRIBUTED TO GROUP E, Circa 540 - 530 BC
Athenian hoplites are also shown arming for the departure as in the below krater. Both types of scenes depict the departing warrior surrounded by their family, the women often veiled, the elderly men shown with their grey hair and bald pates, sometimes attended by the family pets, often with a libation being made, asking the gods to protect their departing son. Red-figure departure scenes, develop from these family compositions but they are considerably more varied in details.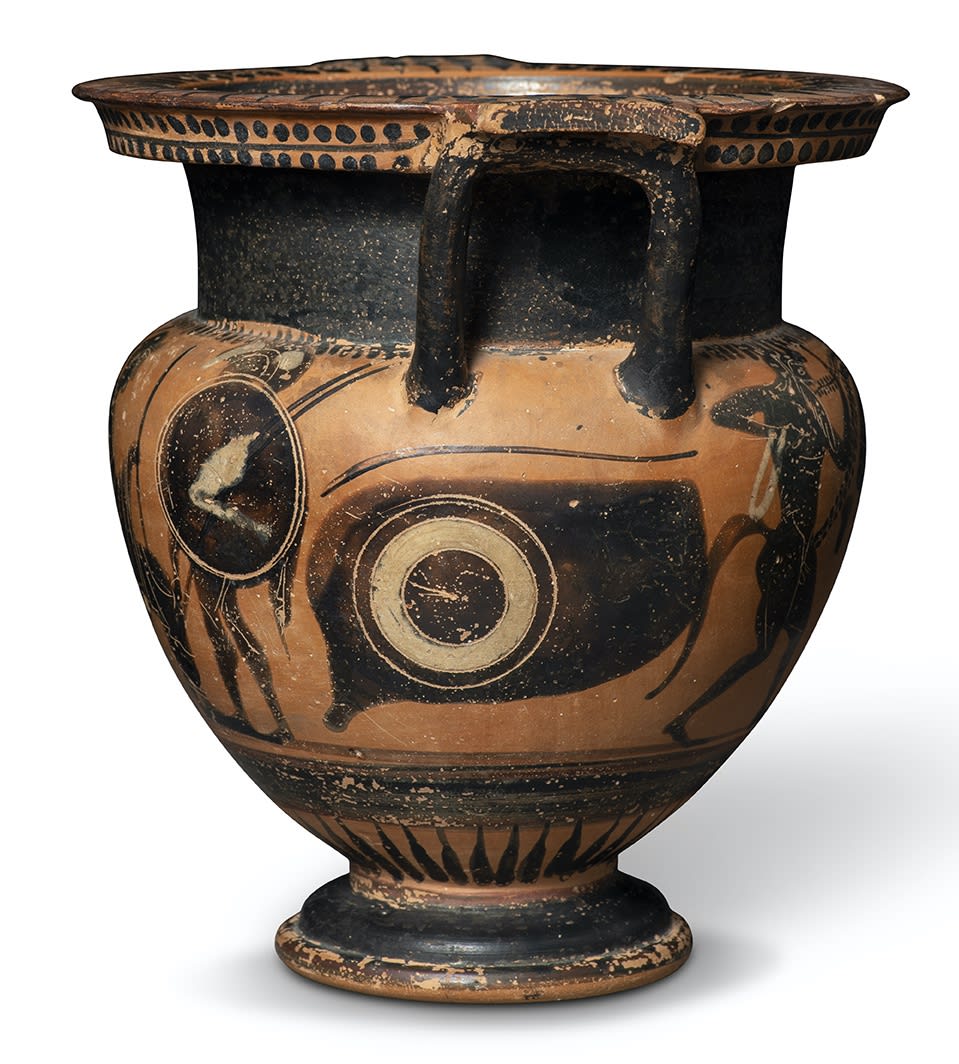 AN ATTIC BLACK-FIGURE COLUMN KRATER,
ATTRIBUTED TO THE MIKRA KARABURUN GROUP, Early 5th century BC
AN ATTIC BLACK-FIGURE HYDRIA,
ATTRIBUTED TO THE LEAGROS GROUP, Circa 525 - 500 BC
These departure scenes have been understood to reflect two of the most important events in the life of a young Athenian man: his departure as a hoplite leaving for battle; or as in the red-figure bell krater below, the departure of an ephebe for training and military service as indicated by his lack of beard and armour.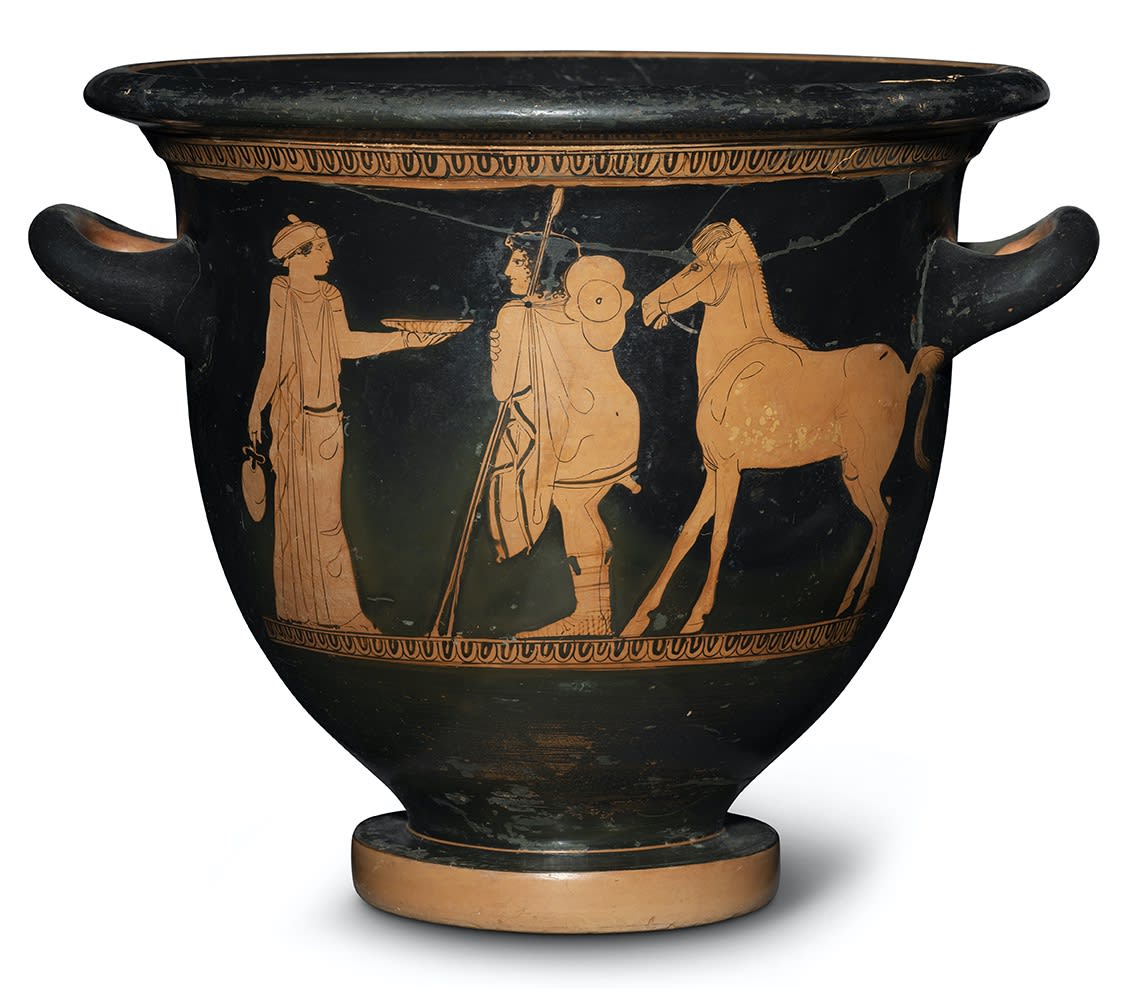 AN ATTIC RED-FIGURE BELL KRATER, Late Classical, circa 430 - 400 BC
It is clear that the identification of hoplites with heroes on Athenian vases was meant to inspire heroic behaviour in the departing warrior in fighting for their polis. 'The departing warrior left with the love of his family, the inspiration of gods and heroes, and the knowledge that he served Athens as part of a company of citizen-soldiers' (S.B. Matheson).