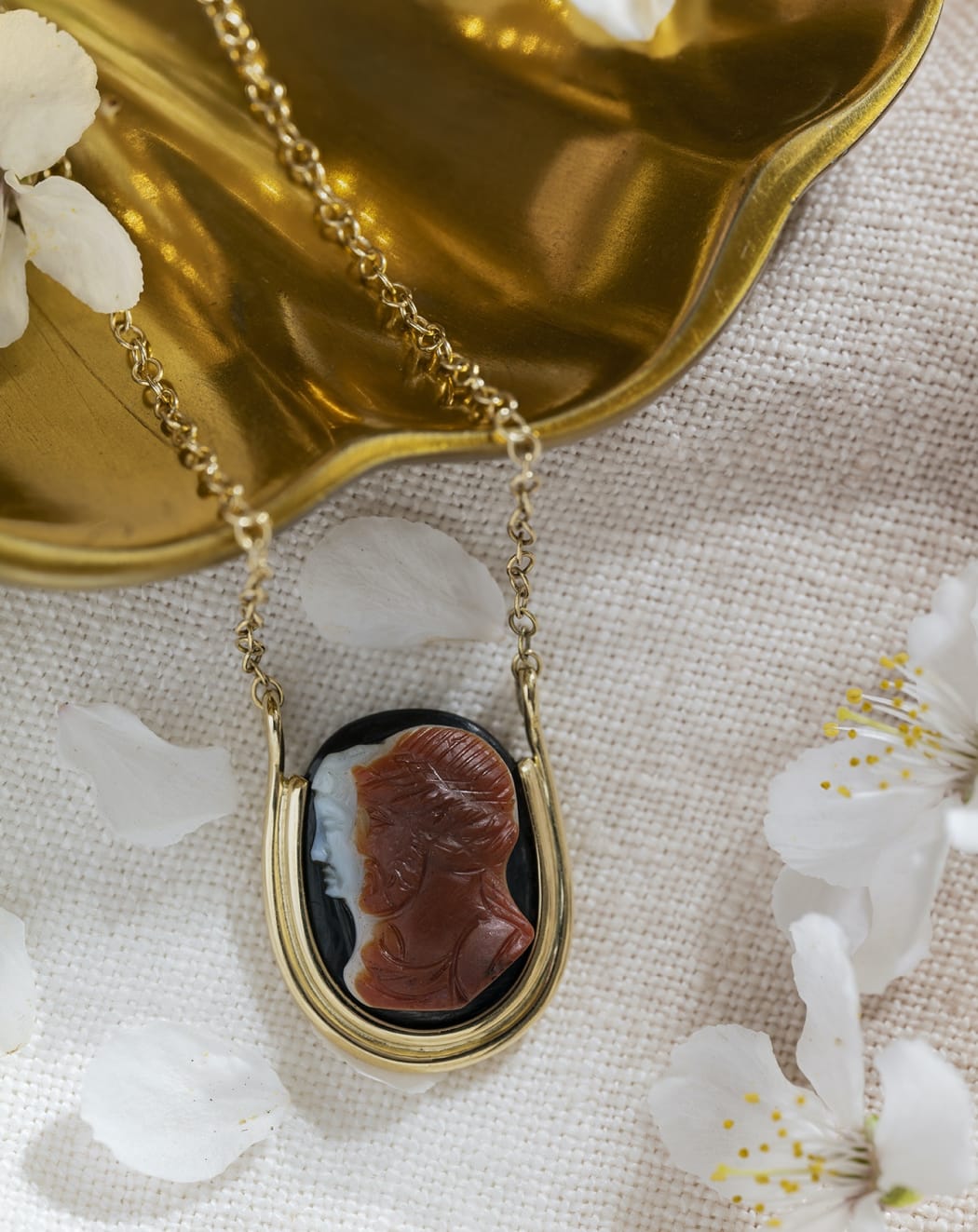 This elegant oval cameo carved in layered sardonyx depicts profile jugate busts of Zeus and Hera.

This style of portrait, with two superimposed profiles, is known as the capita jugata type. The capita jugata design was originally a Hellenistic ruler motif, first seen on the coins issued by Ptolemy II Philadelphus in Hellenistic Egypt.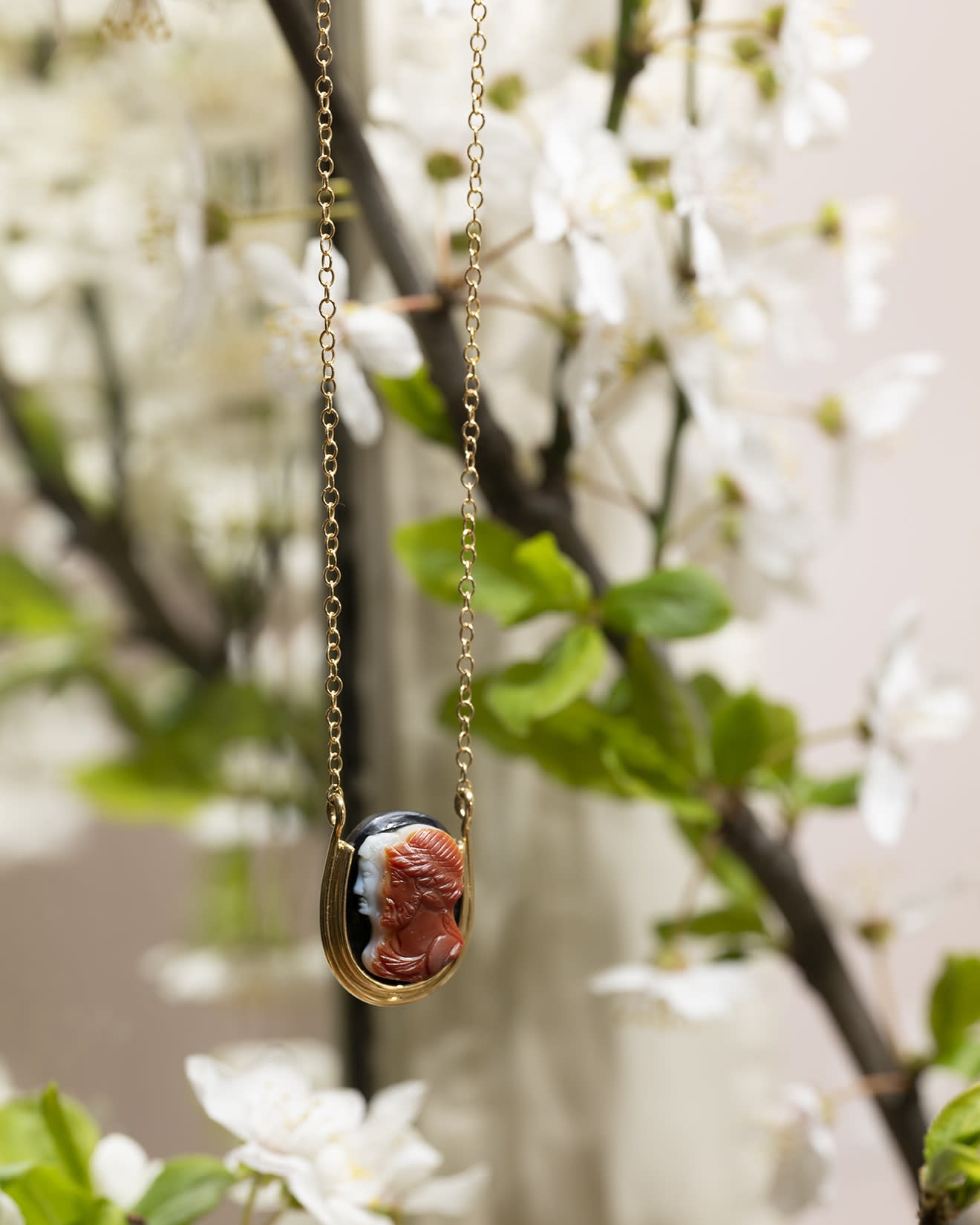 Perhaps the most famous example of this design is the Gonzaga Cameo, a Hellenistic cameo dating to the 3rd century BC and currently in The State Hermitage Museum, St. Petersburg, inv.no. ГР-1267.

The classical masterpiece depicts a paired portrait of Ptolemy II Philadelphus and his wife and sister Arsinoё II, the deified rulers of Egypt. In his Idyll 17, the author Theokritos likens the marriage of Ptolemy and Arsinoё to that of the Greek deities Zeus and Hera, king and queen of the gods. It is likely that the engraver of the cameo was also likening the subjects to the royal marriage of Zeus and Hera.
This type of design was adopted by the Romans and continued to be used for Imperial portraiture on cameos and coins.
For further discussion of the type see, M. Henig, H. Molesworth, The Complete Content Cameos, 2018.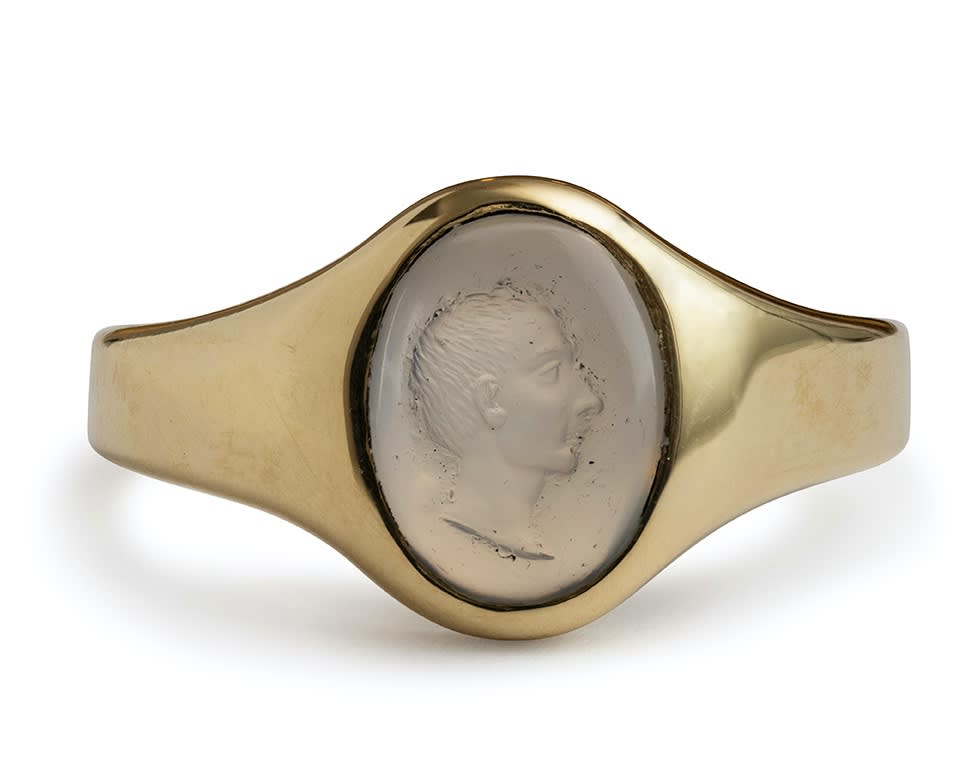 A ROMAN CHALCEDONY PORTRAIT INTAGLIO, SET IN A MODERN GOLD RING
Circa 1st century BC
Length of intaglio: 1 cm; Ring size: Q 1/2
£5,800
The oval cabochon creamy coloured chalcedony intaglio is engraved with the profile head of a man, of mature years, in the veristic style, with short receding hair and a prominent nose.

Portraiture of the late Roman Republic was rooted in the upper class tradition of the display of imagenes which were wax portrait masks of noted ancestors. These masks were carried in family funerary processions and along with bronze, marble and terracotta busts were proudly housed in the household lararium, or family shrine, in public areas of the Roman house. By displaying these portraits so prominently in the public sphere, aristocratic families were able to celebrate their history of public service while honouring their deceased relatives.
This intaglio portrait may be seen in the same tradition. There is a veristic amethyst intaglio portrait of Julius Caesar in the Metropolitan Museum of Art, New York: acc. no. 11.195.6; also from the Marlborough Collection: J. Boardman, D. Scarisbrick, C. Wagner, E. Zwierlein-Diehl, The Marlborough Gems, 2009, no. 461.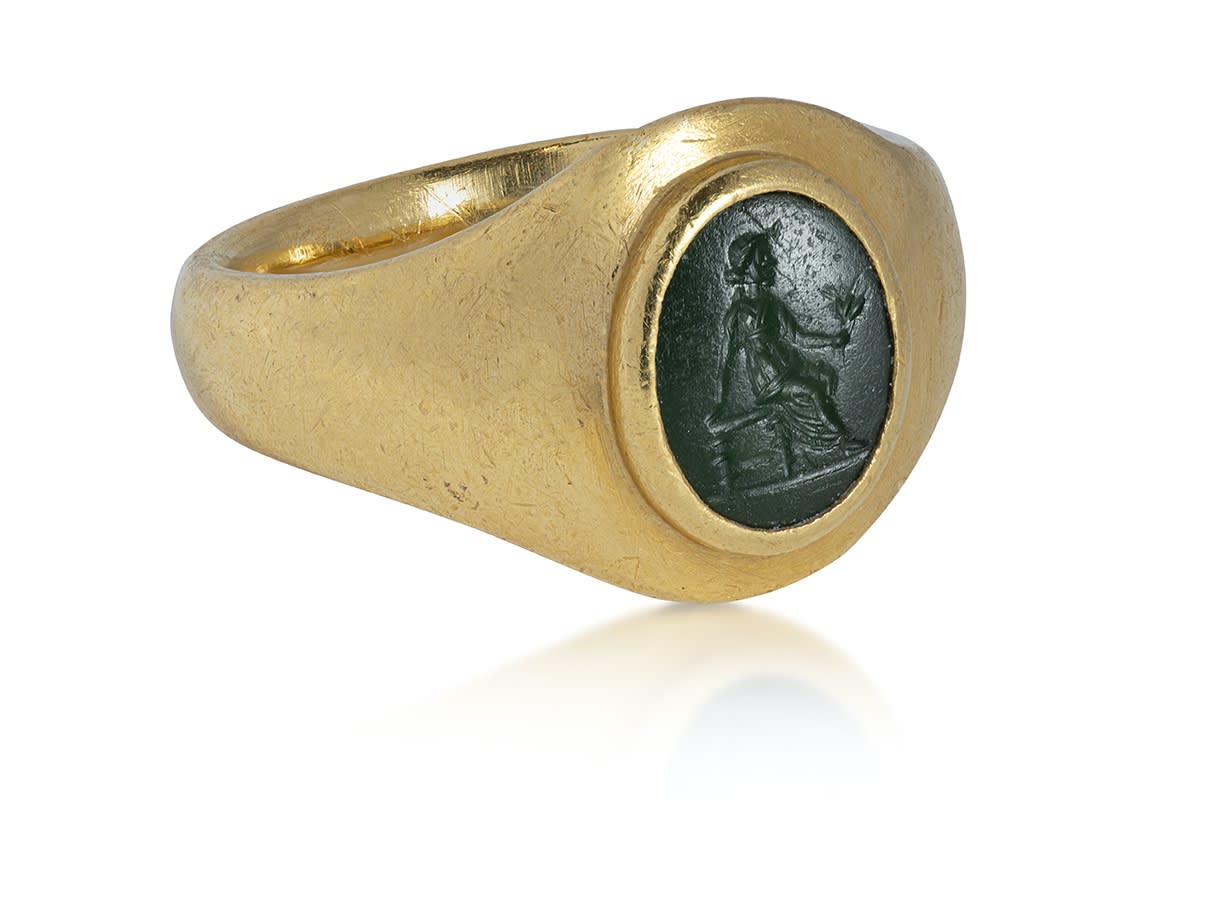 A ROMAN CHROMIUM CHALCEDONY INTAGLIO OF CERES, SET IN AN ANTIQUE GOLD RING
Circa 2nd-3rd century AD, the mount 19th century
Length of intaglio: 8.5mm; Ring size: K
£3,000
The oval gem is carved with a seated figure of Ceres, the goddess of agriculture and fertility. The goddess is depicted holding wheat in her left hand, with her right hand resting behind her on her stool. The ring is set in a substantial antique gold ring with an open back, with hallmarks.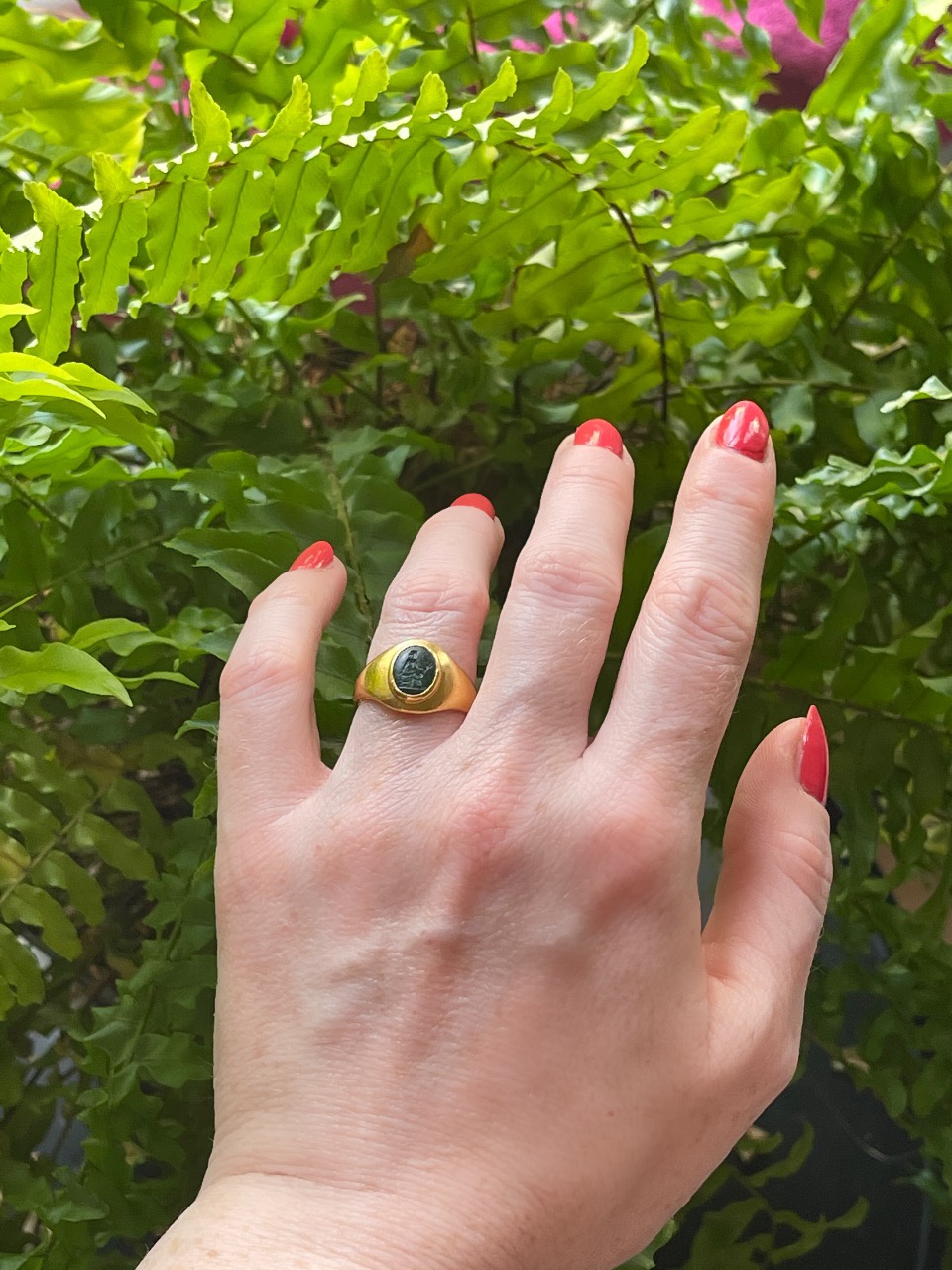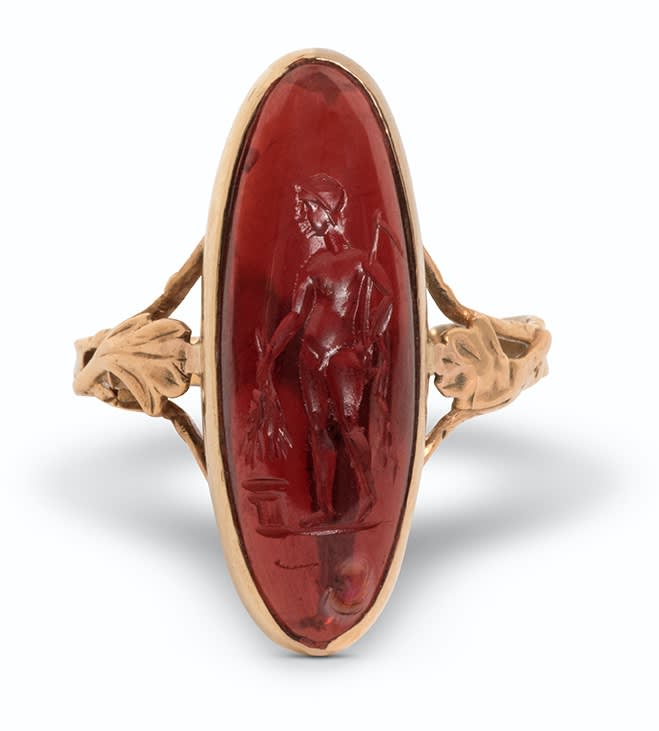 A HELLENISTIC GARNET INTAGLIO,
SET IN AN ANTIQUE GOLD RING
Circa 2nd - 1st century BC
Length of intaglio: 24 mm; Ring size: Q 1/2
£6,000
The elongated oval convex gem is carved with a nude male figure standing on a ground line in front of an altar. The figure is shown turning to his right with his head in profile. He is holding a scythe in his left hand, whilst in his right hand he holds some wheat stalks to make an offering.