The Greek symposium is one of the most iconic subjects of Attic vase painting. It was a traditional social gathering and convivial banquet where wealthy Athenian men drank together, reclining on couches (klinai). The men would discuss philosophy and literature, some recited poetry or played music. It was also, fairly predictably perhaps for a drinking party, a venue for jokes, gossip, and games and would also have been attended by professional musicians, dancers, and courtesans, adding to the sense of revelry.

By the late sixth century BC, there was an established set of vessels to be used at the symposium, including wine coolers (the dinos), jugs (the oinochoe), storage vessels (the amphora and hydria) mixing vessels (the krater) and various drinking cups. The kylix, with its large shallow body on a foot, could range in size from about 20cm in diameter to huge versions with a diameter of double that. The Kallos example is just such a splendidly large kylix, with a width of 41.3 cm and would have needed skilful handling when full of wine.
Both the inside and outside of such cups could be decorated. The decoration on such cups was also frequently amusing with images of young men and women carousing, such as the frolicking maiden on the interior of the large Kallos cup.


Sometimes the decoration was directly connected with the way the cup functioned. For instance, huge eyes or other facial features on the outside of the cup would 'play' with the drinker and his companions, as the drinker was turned into a grotesque pot each time he raised the cup to drink. The interior scene, which would be covered with wine at first and only gradually revealed as the cup was drained, was often also designed to surprise the drinker. One common decoration, the head of a monstrous gorgon (the gorgoneion), was particularly effective since it was gradually revealed as the cup was drained, slowly replacing the reflection of the drinker's own face which was visible in the surface of the wine when the cup was full.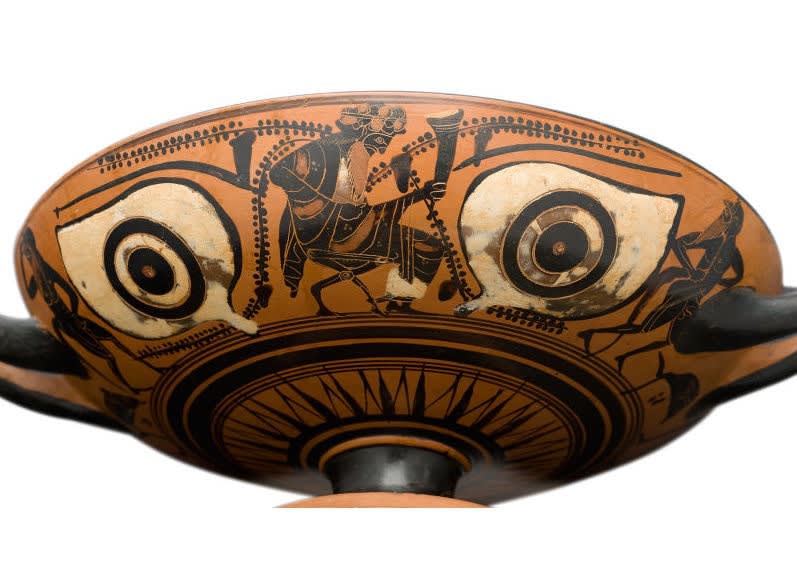 Circa 525 - 500 BC
Many of these vessels were decorated with scenes of drinking parties or of Dionysus and his followers enacting a mythological type of drinking party. In this Kallos eye-cup, Dionysus is sat on his stool, clutching a rhyton of wine with satyrs to either side. Satyrs chasing Maenads and other light-hearted and symposia-appropriate imagery were very popular. The Centaur Painter cup is a finely painted black-figure cup showing just such a scene of a nude satyr enthusiastically bounding after a Maenad. Such Dionysiac subjects and scenes connect the viewer to the komos, which was a drunken torchlight procession in honour of Dionysus which usually closed the party.

DETAIL OF AN ATTIC BLACK-FIGURE LIP CUP,
ATTRIBUTED TO THE CENTAUR PAINTER
Circa 540 BC
Originally a village festival, the komos comes to mean a revel, carousal, or procession of drinkers who sing and dance. It was probably an occasion for rude jokes exchanged with onlookers as well. There is a wonderful cup by the Brygos Painter in Würzburg, Martin von Wagner Museum (L 479) which depicts an amusing komos after the symposium with inebriated young men staggering away, one even vomiting, accompanied by dancing girls or hetairai and musicians.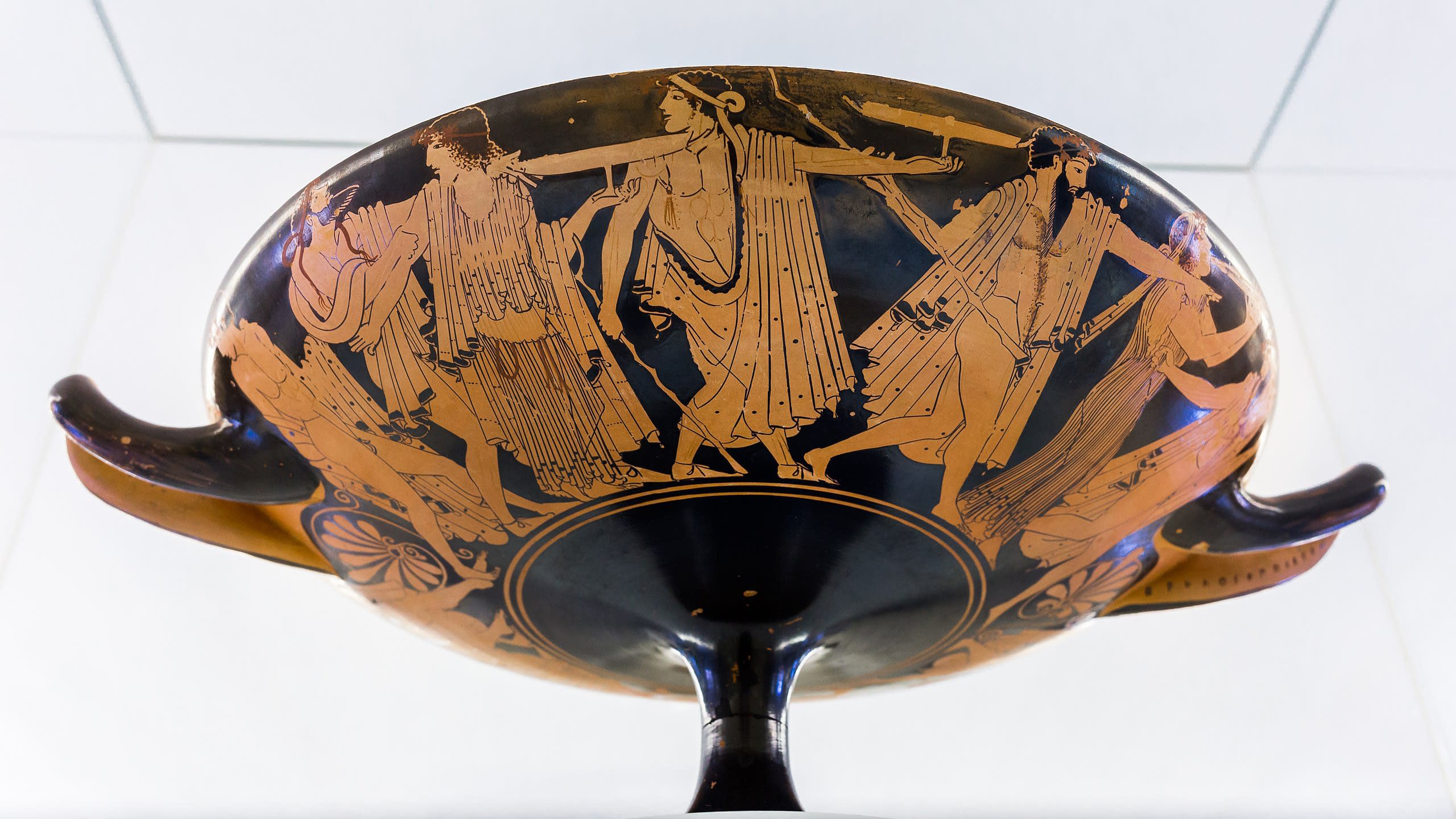 AN ATTIC RED-FIGURE KYLIX CUP, ATTRIBUTED TO THE BRYGOS PAINTER
Circa 490-480 BC
Martin von Wagner Museum (L 479), Würzburg (CC BY-SA 3.0)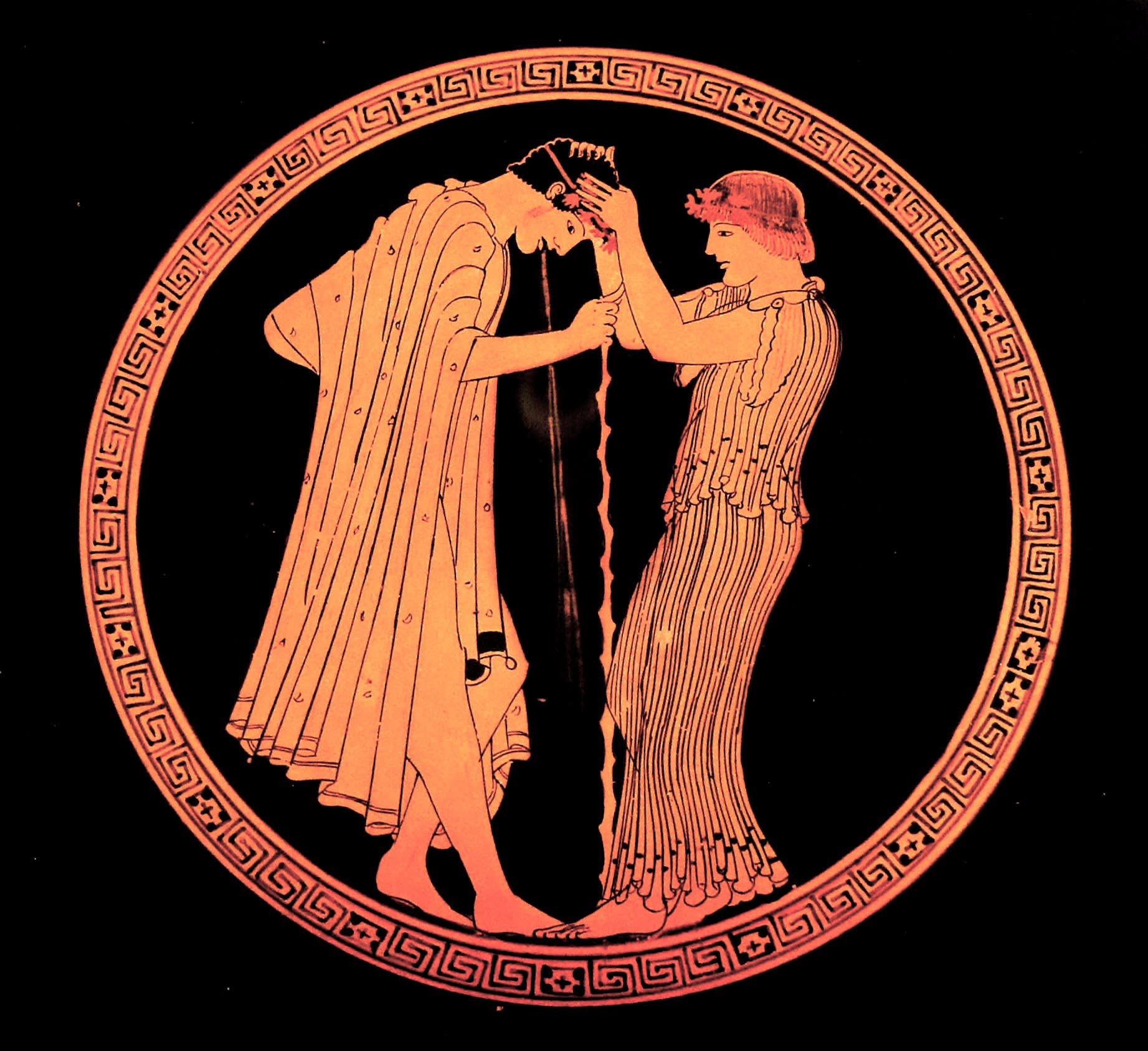 TONDO FROM AN ATTIC RED-FIGURE KYLIX,
ATTRIBUTED TO THE BRYGOS PAINTER
One of the most popular games at the symposium, which utilised the drinking cup to comedic effect, was known as kottabos. After finishing his cup, the guest picked it up by the handle and flicked the dregs at a target, usually another cup. As he did so, he uttered the name of his beloved, as it was believed that hitting the target boded well for his love life. The red-figure kylix in the Met (56.171.62) shows a symposiast holding one cup in his left hand whilst about to fling the dregs from a second cup with his right hand.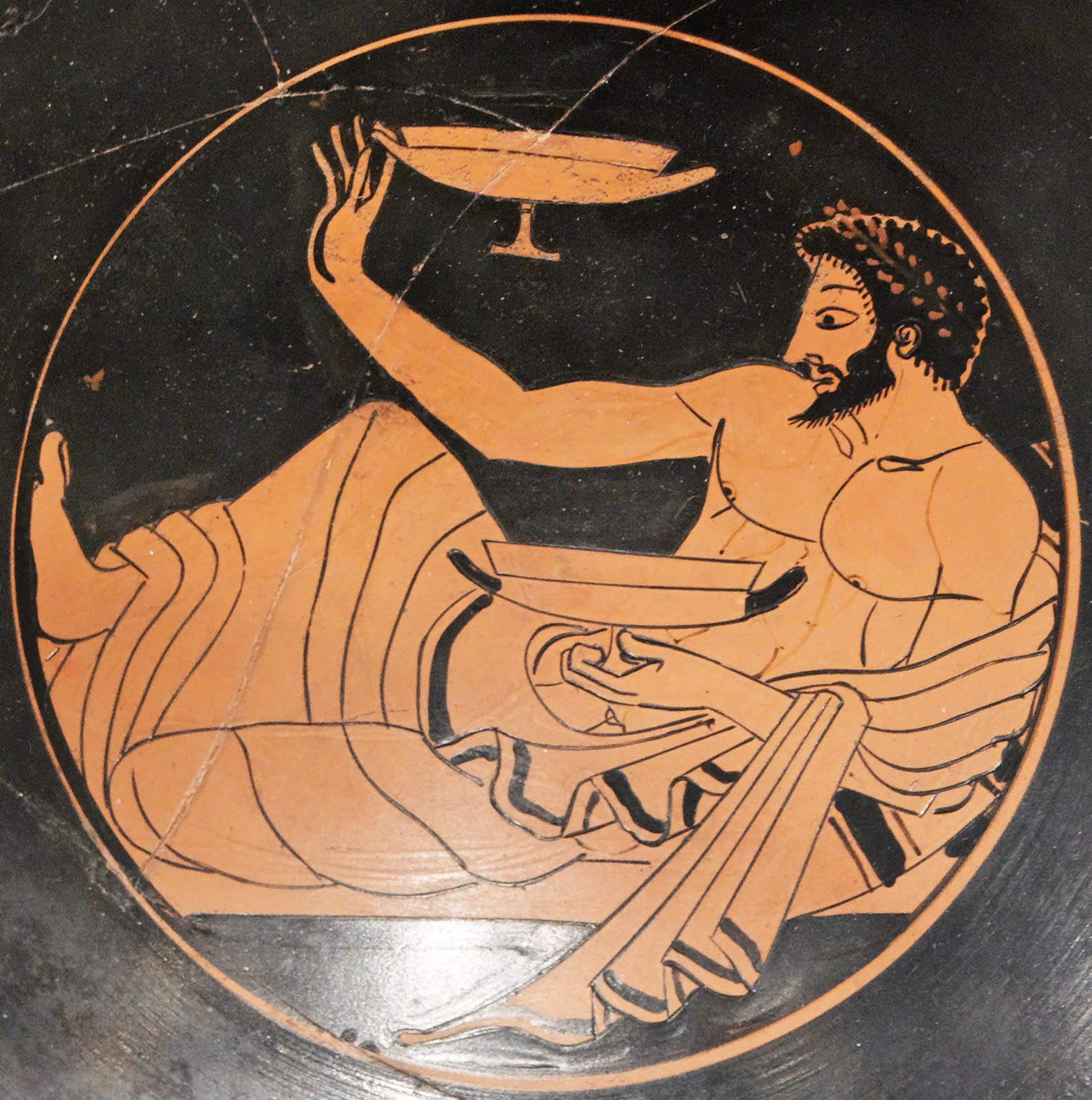 TONDO FROM AN ATTIC RED-FIGURE KYLIX
Circa 500 BC
The Metropolitan Museum of Art, New York, inv.no 56.171.62
AN ATTIC BLACK-GLAZED VI-CUP
Circa 470 BC
He holds a similar cup to the finely-potted Kallos Vi-cup which is a rare form belonging to a class of cups for which Sir John Beazley coined the term Vi-cup. It is distinctive for being fully glazed in a glossy black on all its surfaces, including the underside of the foot. The Kallos black-figure band cup below is also a charming example of a slightly different form, with a tall elegant foot and an animal frieze decoration across the body.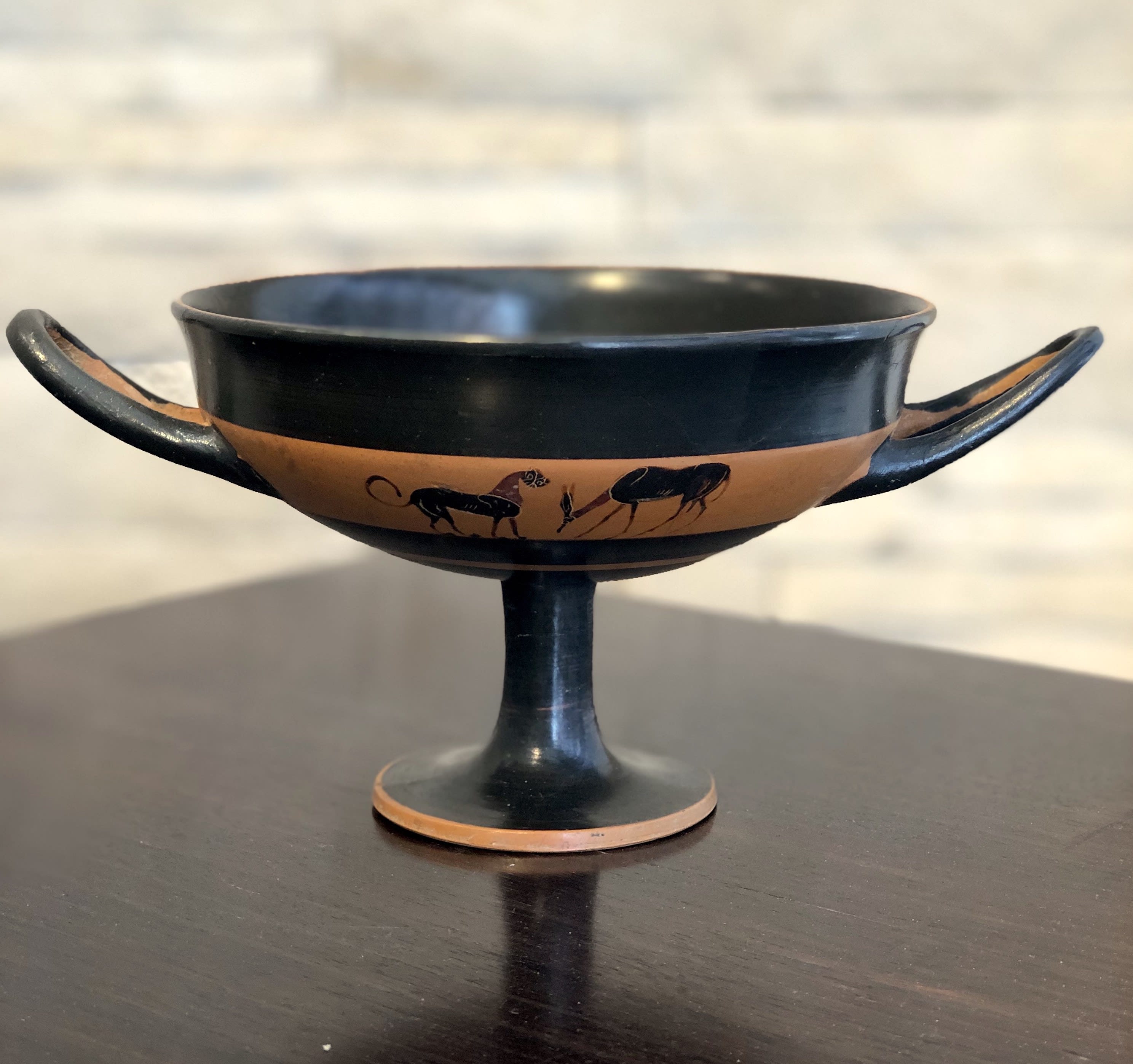 AN ATTIC BLACK-FIGURE BAND CUP
Circa 540 - 500 BC
As in the modern world, not all get-togethers involved debauchery. Plato presents an image of more balanced and orderly symposia. He wrote in his dialogue Protagoras (347c-e): "When men of education gather to drink, you will not see any flautists or dancing girls. And even if they drink a lot, they are capable of talking and listening in an orderly fashion."

As well as being a social event, the symposium followed a set of religious and cultural conventions, including etiquette, hospitality and rules of attire. The well-conducted symposium was a centre for the transmission of traditional Athenian values, as well as an event that provided liberation from everyday restraints, but within a carefully structured and conventional environment.

Further reading:
F. Lissarrague, The Aesthetics of the Greek Banquet: Images of Wine and Ritual (Princeton, 1990) translation by A. Szegedy-Maszak of the French Un flot d'images: une esthétique du banquet grec (Paris, 1987).