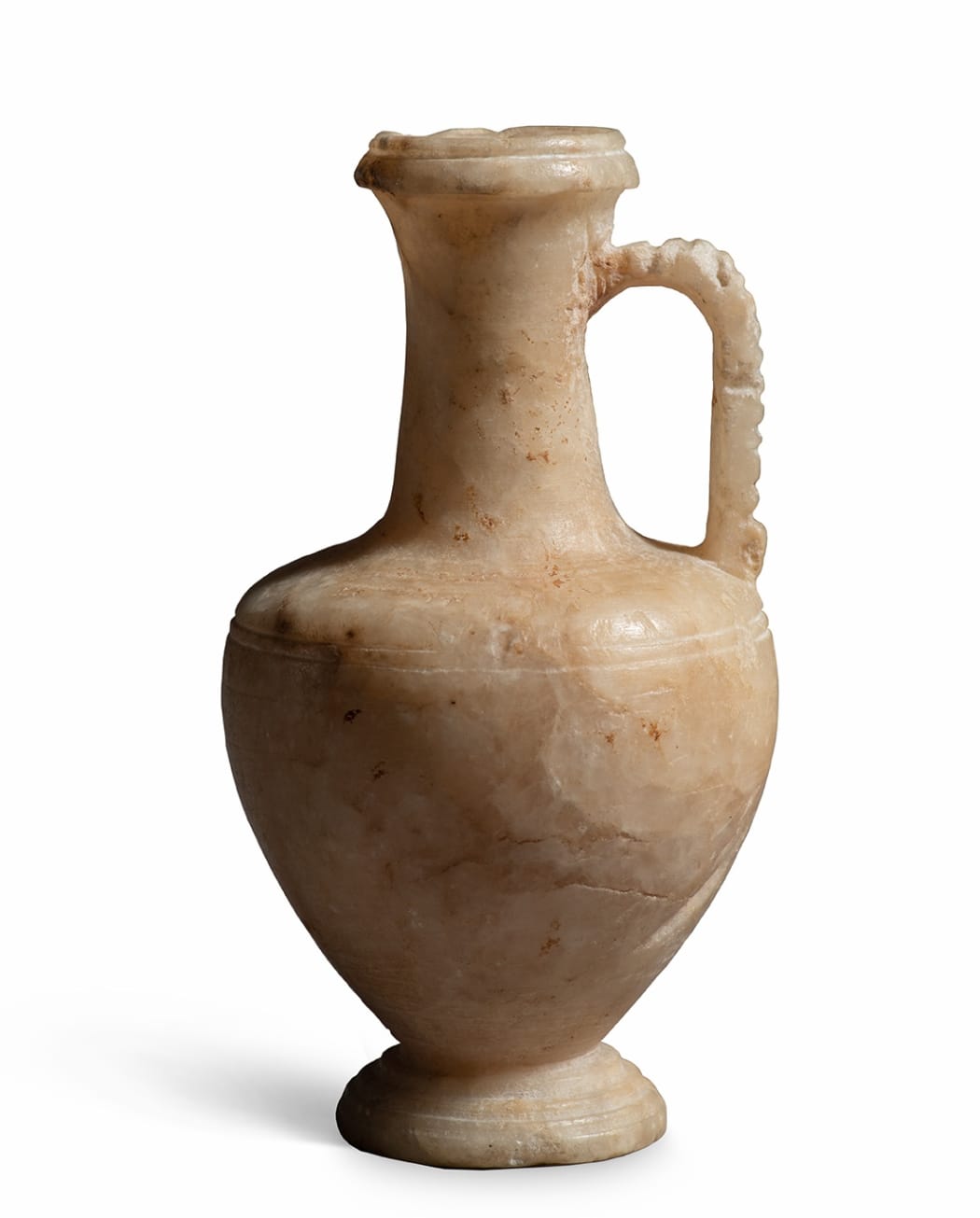 The art of scenting oneself, like most sensual pleasures, has a long and luxurious history. The Egyptians were the first to create personal fragrance we would recognise today in the form of perfumed oils (alcohol as a vehicle for aromatics wasn't used until 1370 AD), and they exported the raw materials and finished blends across the known world. Though the origin of perfume is Egyptian, the word is Roman – from the Latin per fumare, through smoke, and speaks to fragrance's beginnings in incense and other forms of burnt offerings. Throughout the ancient world the ritual of scenting oneself gave rise to beautiful, diminutive jars and vessels specifically designed for personal fragranced oils. Then, as now, the bottle was as important as the scent itself.

Pliny writes that the best material for storing perfume is Egyptian alabaster, its fine grain and non-porous nature making it the ideal material. This miniature lekythos, rendered in fine alabaster, was no doubt intended to store a perfumed oil, perhaps to be poured into the bath, and hence the lekythos shape. The delicately incised concentric circles on the shoulder and gently flaring foot along with the ribbed detail on the handle add to its elegant simplicity.

Perhaps it once held something saffron based, with its scent of freshly cut hay and honey with a gentle metallic edge. Cleopatra famously bathed in milk, but she was also known to add saffron oil to her bath for both its complex fragrance and the golden hue it imparted to her complexion, while Alexander the Great was said to add saffron to his baths for both the sensual enjoyment of it, and its medicinal properties. Like many unguents, saffron oil was believed to help to heal wounds.
Contemporary counterpart Parfumerie Generale Felanilla,
and specifically for the bath Byredo Black Saffron bath oil.
Alabaster was by no means the only material used for scent bottles, although it did provide them their name – alabastron (pl. alabastra). The vase makers and painters of Athens working with the local deep red clay created beautiful long bodied vases with flat disk shaped mouths to help minimise spilling. Round at the bottom, these elegant bottles cannot stand, so they were worn dangling from the waist or wrist, as illustrated in the Attic red-figure alabastron attributed to the Painter of Copenhagen 3830, himself primarily a painter of alabastra. On the Kallos example a draped woman stands with her arm outstretched, an alabastron swinging before her, which she offers to a male figure on the other side of the vase.
AN ATTIC RED-FIGURE ALABASTRON,
ATTRIBUTED TO THE PAINTER OF COPENHAGEN 3830 BC
Circa 480-470 BC
The fragrance this bottle held might have been something with depth, to complement the glossy black glaze that covers much of the body of the vase. Perhaps a myrrh-based fragrance like Mendesian, so named for the ancient Egyptian city of Mendes where it was first produced. A combination of myrrh, cassia, and various tree gums and resins, this would have been a tenacious fragrance with a radiant glow.
Contemporary counterpart Serge Lutens La Myrrhe.
However, she may not have been the intended wearer of the scented oil in the alabastron; she is offering it to her male companion, for perfumed oils were worn both by men and women. A fine red-figure bell-krater attributed to the Amykos Painter depicts a male youth holding an aryballos, another form of scent bottle. The balance of body and spirit permeated the Greek psyche, and care of both were equally important. After exercise at the gymnasium, one bathed and applied the oils and balms brought to the gym in just such alabastra and aryballoi.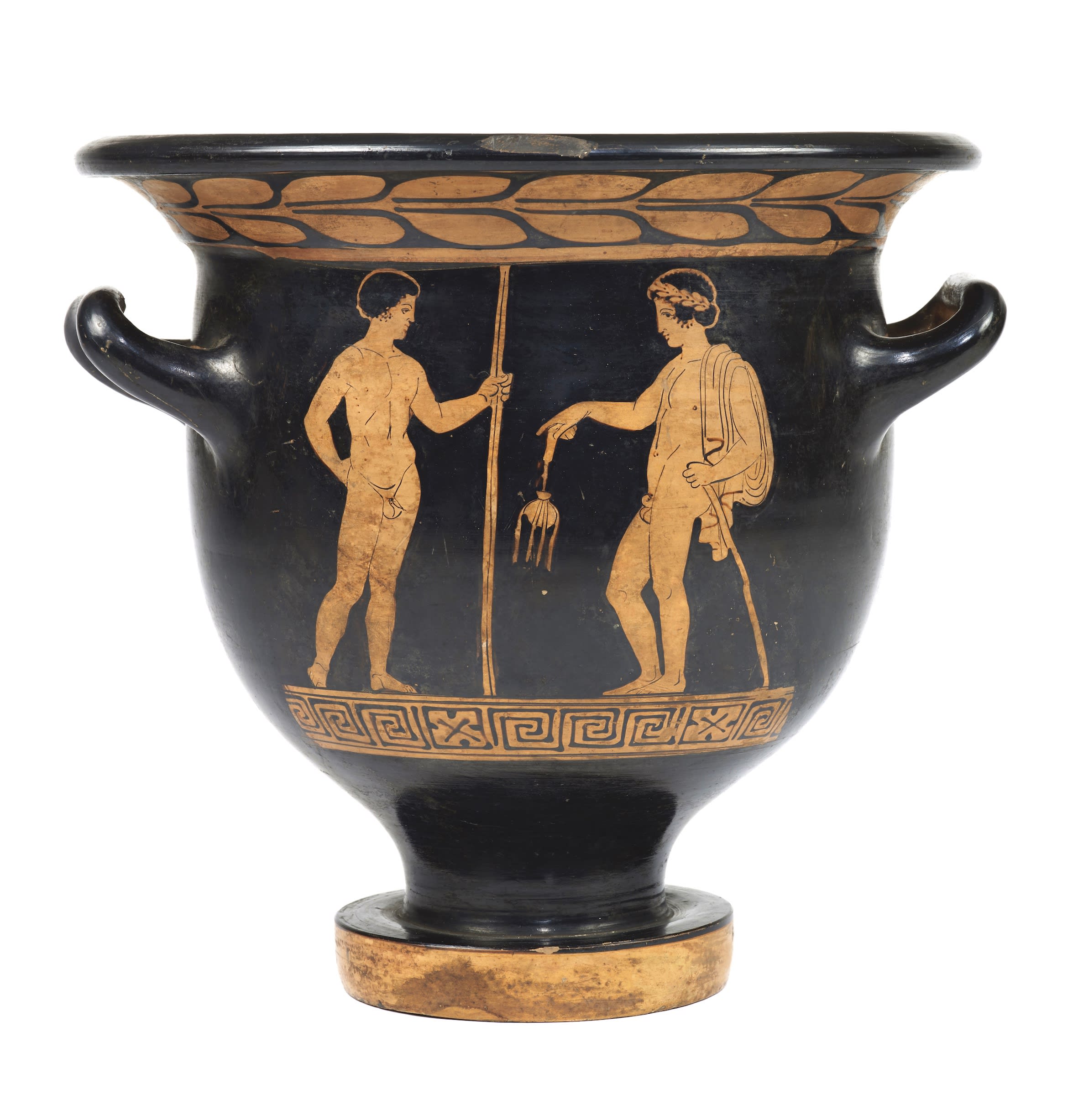 A GREEK RED-FIGURE BELL KRATER,
ATTRIBUTED TO THE AMYKOS PAINTER
Lucanian, circa 420-400 BC
Indeed, if we are to believe the words of Antiphanes in his Thoricians (as recounted by Athenaeus), men of the ancient world were using the whole of their bodies to create perfume pyramids (a perfume pyramid is the form around which most contemporary fragrances are structured with top notes, the most fleeting first scent a perfume emits; mid-notes, the heart of the perfume; and base notes, the foundation of the fragrance and the longest lived aromas sometimes called the dry down).

He really bathes
in a large gilded tub, and steeps his feet
and legs in rich Egyptian unguents;
his jaws and breast he rubs with thick palm oil,
and both his arms with extract of sweet mint;
his eyebrows and his hair with marjoram
his knees and neck with essence of ground thyme.
Athenaeus, The Deipnosophists, book 15, translated C.D Yonge, p. 40

Oils and balms made with botanicals were intended to heal the body as much as the soul; their first use was as a conduit to communicate with the divine. Precious oils were often gifted to the gods as poured offerings and as votives left in temples and at sanctuary sites. Such vessels were often shaped to represent parts of the body or objects from nature, and are known as 'plastic' vases. A terracotta vase in the shape of a greaved leg would have almost certainly been filled with scented and precious oil. Whether it was left as a gift to the gods in thanks, or the oil it housed specifically for use on the aching muscles of warriors and athletes, we do not know, but let us assume it was filled with an unguent scented with thyme, a herb particularly effective for muscle recovery, and in honour of Antiphanes' words.
Contemporary counterpart Heeley Esprit du Tigre/Spirit of the Tiger
A GREEK 'PLASTIC VASE' IN THE FORM OF A GREAVED LEG
Corinth or Rhodes, circa 6th century BC
Glass was also a popular material for scent bottles, increasingly so in the Roman period. Like alabaster, it is non-porous, but glass could be made in a myriad of colours, and by the 1st century AD the technique of glass blowing had revolutionised the glass-making industry. Long-necked bottles allowed the precious oil to be carefully trickled out, while the tight neck and flaring lip of sprinkler bottles allowed but a single drop of the expensive liquid to escape.
A ROMAN AUBERGINE AND WHITE 'MARBLED' GLASS BOTTLE
Eastern Mediterranean, circa 1st century AD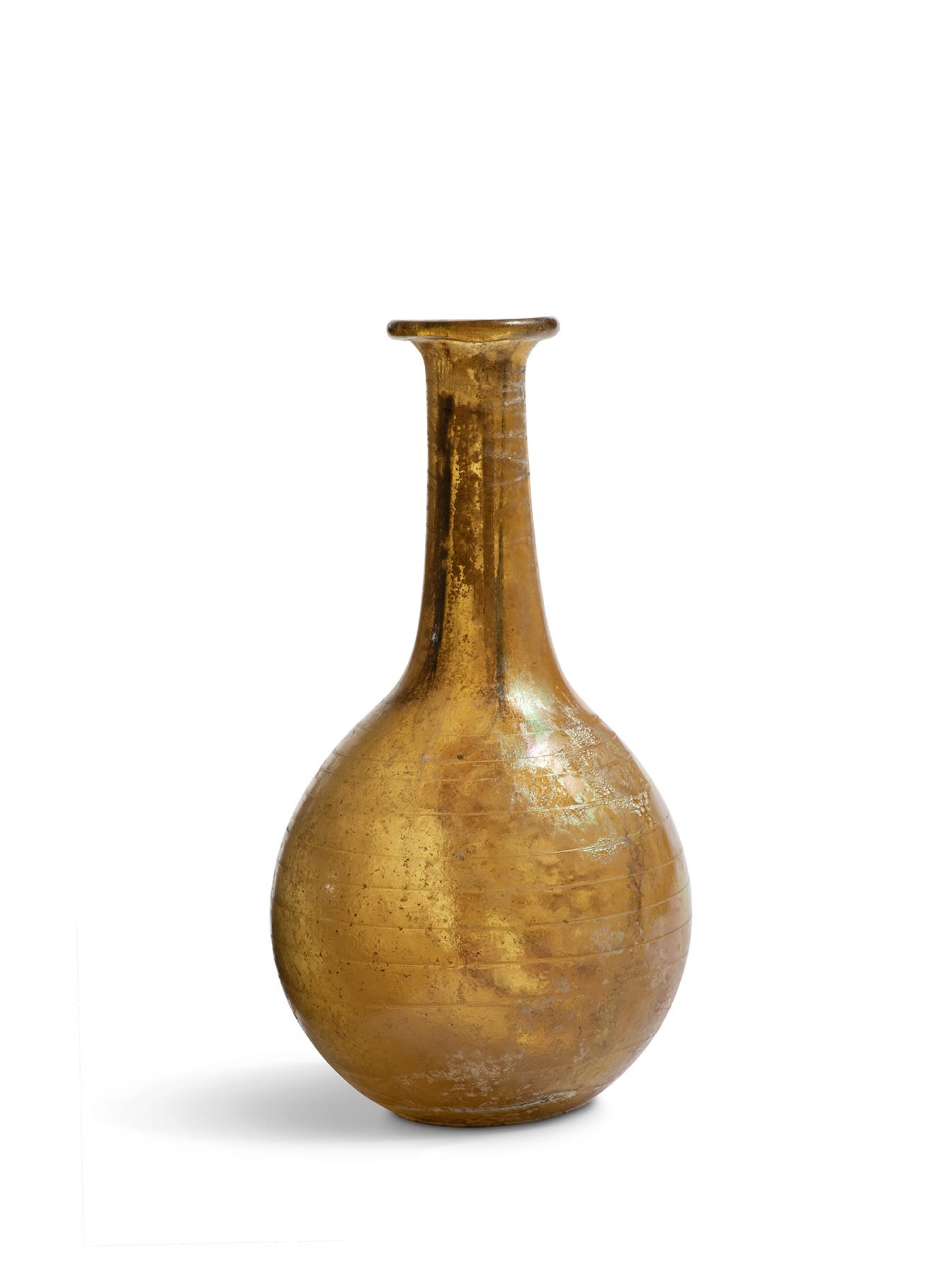 A ROMAN PALE AMBER GLASS BOTTLE
Eastern Mediterranean, circa 1st century AD
Maybe the golden yellow sprinkler vessel once held Susinum, a famed Egyptian fragrance composed of lily, myrrh, and cinnamon; a scent that surely had a golden glow. And perhaps the deep aubergine bottle held Stakte, which Theophrastus tells us was made from the highest quality myrrh broken into small pieces, mixed with balanos oil slowly heated over a fire. Once dissolved, water was added and the myrrh and oil sank to the bottom, and pure scent sediment was squeezed in a press (De Odoribus, 6.29). It must have been a dense, resinous scent.
Contemporary counterparts Donna Karen Gold, and Zoologist Tyrannosaurus Rex respectively.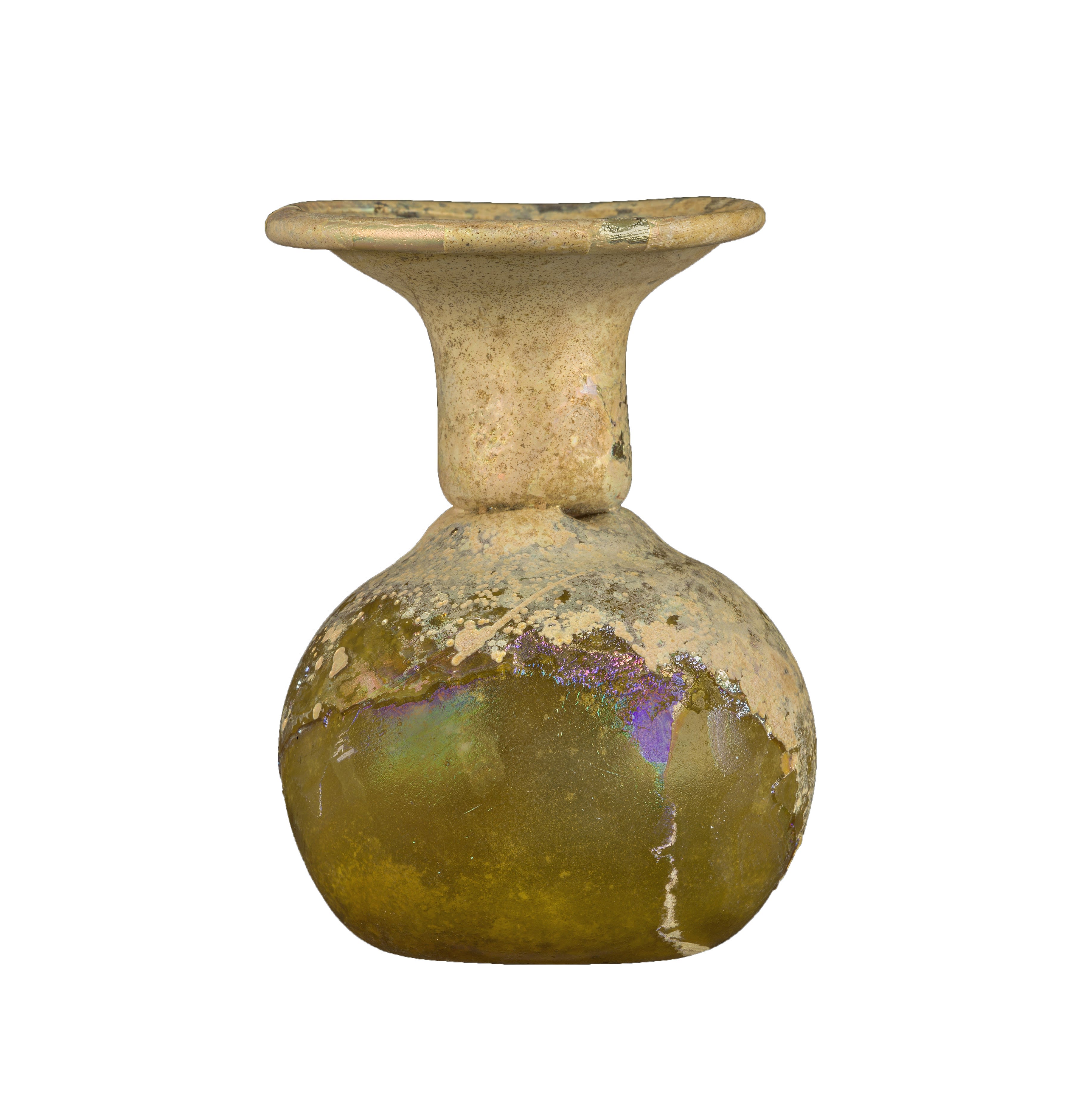 A ROMAN GOLDEN YELLOW GLASS SPRINKLER VESSEL
Circa 3rd - 4th century AD
Though Pliny records much of what is known about ancient fragrant recipes and techniques, he writes against the use of perfume, for he viewed it as the most flagrant form of extravagance.

Perfumes serve the purpose of the most superfluous of all forms of luxury. For pearls and jewels do nevertheless pass to the wearer's heirs and clothes last for some time, but unguents lose their scent at once and die in the very hour they are used.
(Pliny, Natural History, 13.4)

I would argue it is the very ephemerality of perfume that makes it so beautiful, so beguiling. And even if the scents themselves are lost to us, their compositions remain, as do their fabulous flaçons.