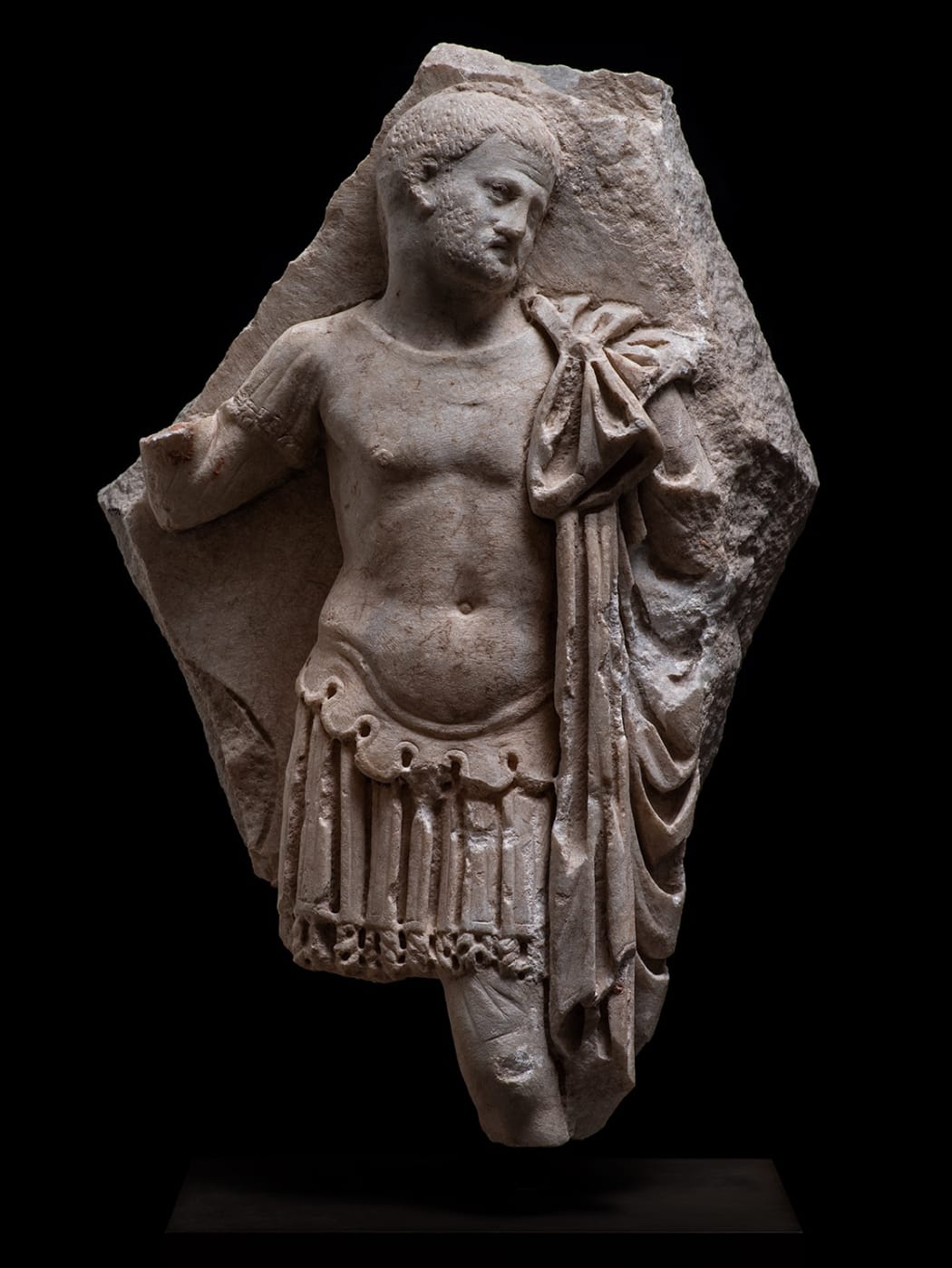 The large relief is modelled in high relief, and depicts a portrait of a man in the distinctive parade military dress of a high-ranking officer. The cuirass (breast plate) has naturalistically modelled musculature, often called a 'muscle-cuirass'. The type has its origins in the armour of ancient Greece, but by the time of Imperial Rome, is generally depicted worn by generals, emperors and deities.

The cuirass flares along the lower edge where it delineates the lower abdomen and hips, ending in a row of tongue-shaped pteryges (protective leather or fabric straps). Underneath the cuirass he wears a leather garment with further long straps protecting his groin and shoulders, each strap with tasselled ends, with a wool tunic beneath. He also wears a voluminous cloak pinned at his left shoulder, the folds falling at his side. He is shown standing in classical heroic contrapposto with his weight on his right leg and his right arm bent at the elbow and held aloft, possibly originally to hold a spear. He stands frontally but with his head turning dynamically to his left conveying the sense that the subject was a man of action. His hair and beard are short and incised, his eyes are drilled and his forehead creased.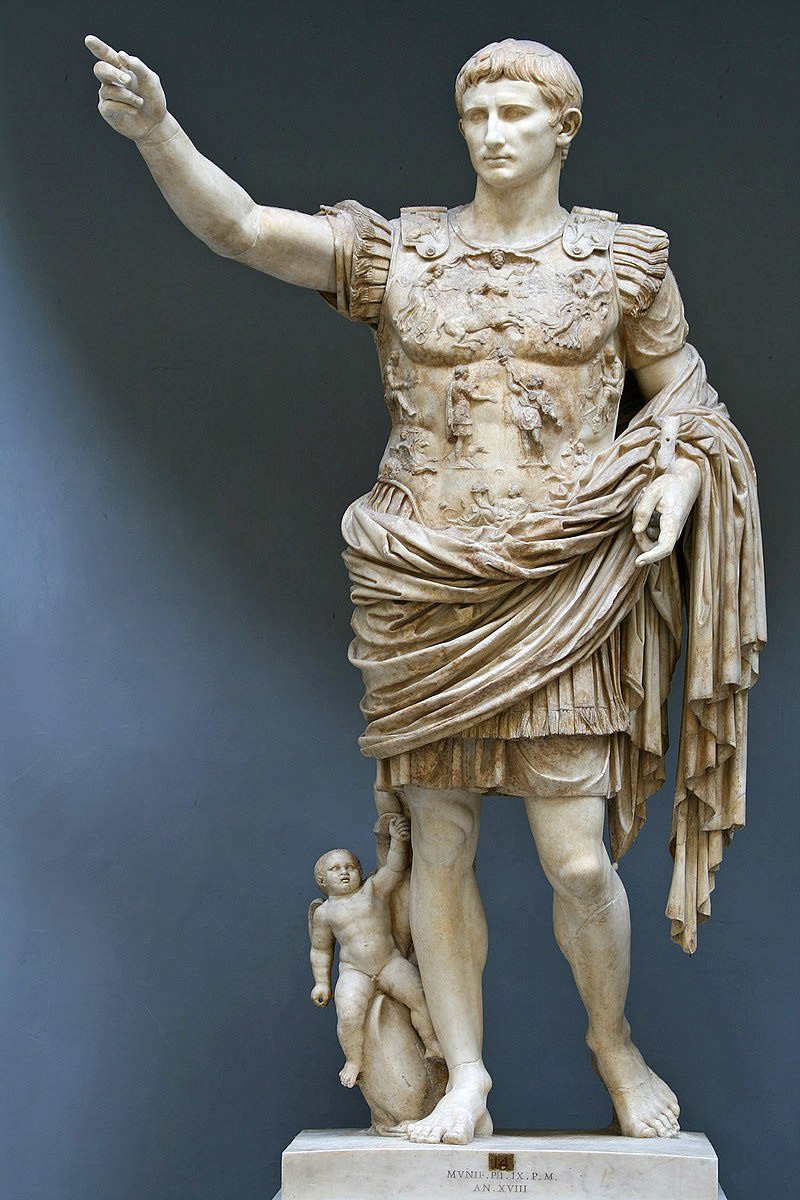 PRIMA PORTA
Circa 1st century AD
Vatican, Chiaramonti Museum, Rome
CC0 1.0 -PD-US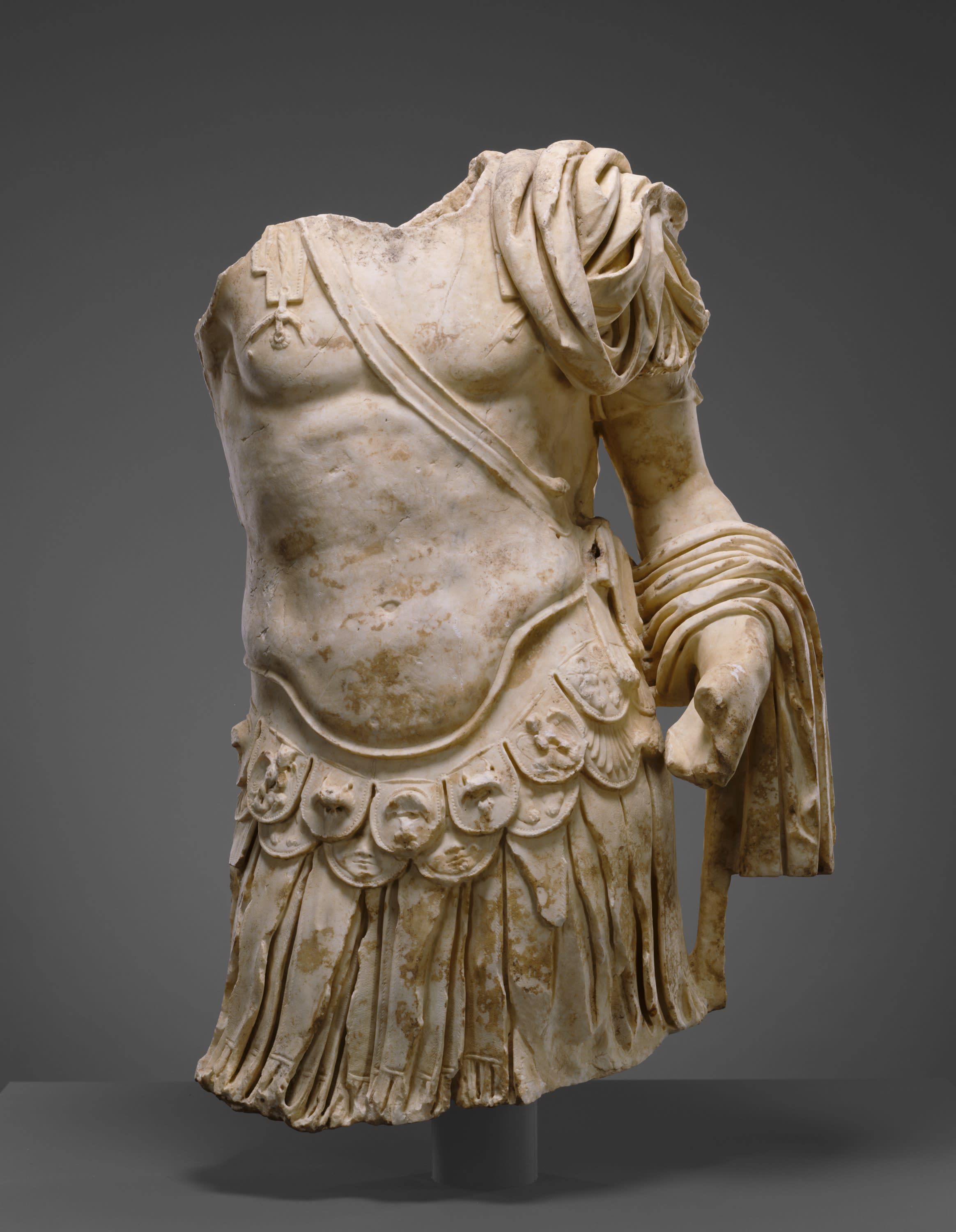 ROMAN MARBLE TORSO OF A CUIRASSED STATUE
81-96 AD
The J.Paul Getty Museum, Los Angeles
Digital image courtesy of the Getty's Open Content Program
Such cuirassed figures were a popular form of sculpture used to honour emperors, their male relatives, victorious generals, and military heroes. The cuirasses worn by emperors frequently show mythological scenes in ornate relief decoration, most famously seen in the Prima Porta statue of Augustus now in the Vatican, Chiaramonti Museum. The lack of ornament to the cuirass on our relief indicates that the subject is most likely a private individual, a high-ranking military officer or general such as the 'Flavian general' in the J. Paul Getty Museum. There is also a mid-2nd century sarcophagus found in Rome in 1941 on the Via Crotone, now in the Capitoline Museums (MC2783), which depicts the life of the deceased, a high-ranking man who in one scene appears in military attire of a cuirass and cloak, similar to that worn by our general. Such sarcophagi convey the priorities and preoccupations of such individuals; they were a public record of their achievements as an ideal Roman citizen.
A ROMAN MARBLE FRAGMENT OF A SARCOPHAGUS
Circa 2nd century AD
Musei Capitolini, Rome, inv.no. MC 2783
CC BY 2.5
The Kallos general with his short hair and beard and frowning facial expression, accords with the portraiture of the soldier-emperors of the third century onwards. Its origins are in the portrait type established by the emperor Caracalla, who in extreme contrast to his predecessors, was shown with a short, military beard and incised hairstyle. He was also shown with an intense expression and wrinkled brow, evoking his strong military background and support of and by the Roman army. For further discussion of this subject see S. E. Wood, Roman Portrait Sculpture, 217-260 AD, Leiden, 1986. Many of the soldier-emperors, whose depictions are so close to the portrait type characterised by our general, sought to legitimise their rise to power by aligning themselves stylistically with Caracalla.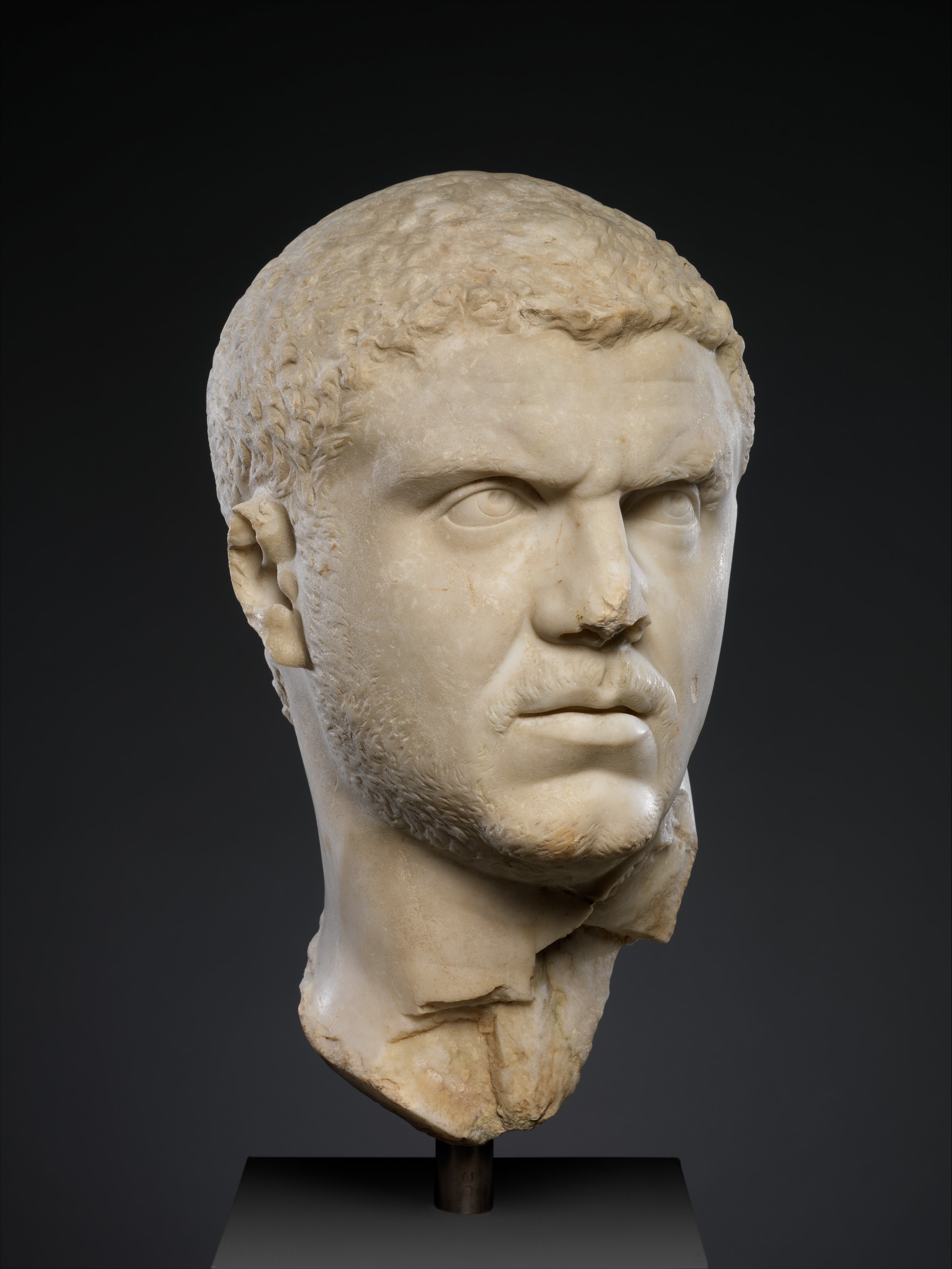 A ROMAN MARBLE PORTRAIT OF THE EMPEROR CARACELLA
212-127 AD
The Metropolitan Museum of Art, New York, inv.no. 40.11.1a
CC0 1.0
From the scale, form and composition of this relief, it is likely that it is from a large votive or funerary relief of a high-ranking officer or general in the Roman army. Sarcophagi of the later 2nd and 3rd centuries tend to feature overlapping figures such as those seen on the Balbinus or Crotone sarcophagi, whereas our subject seems to exist in isolation. The relief may have been to commemorate the subject's military victory, or a public dedication, or indeed it may have been funerary in purpose.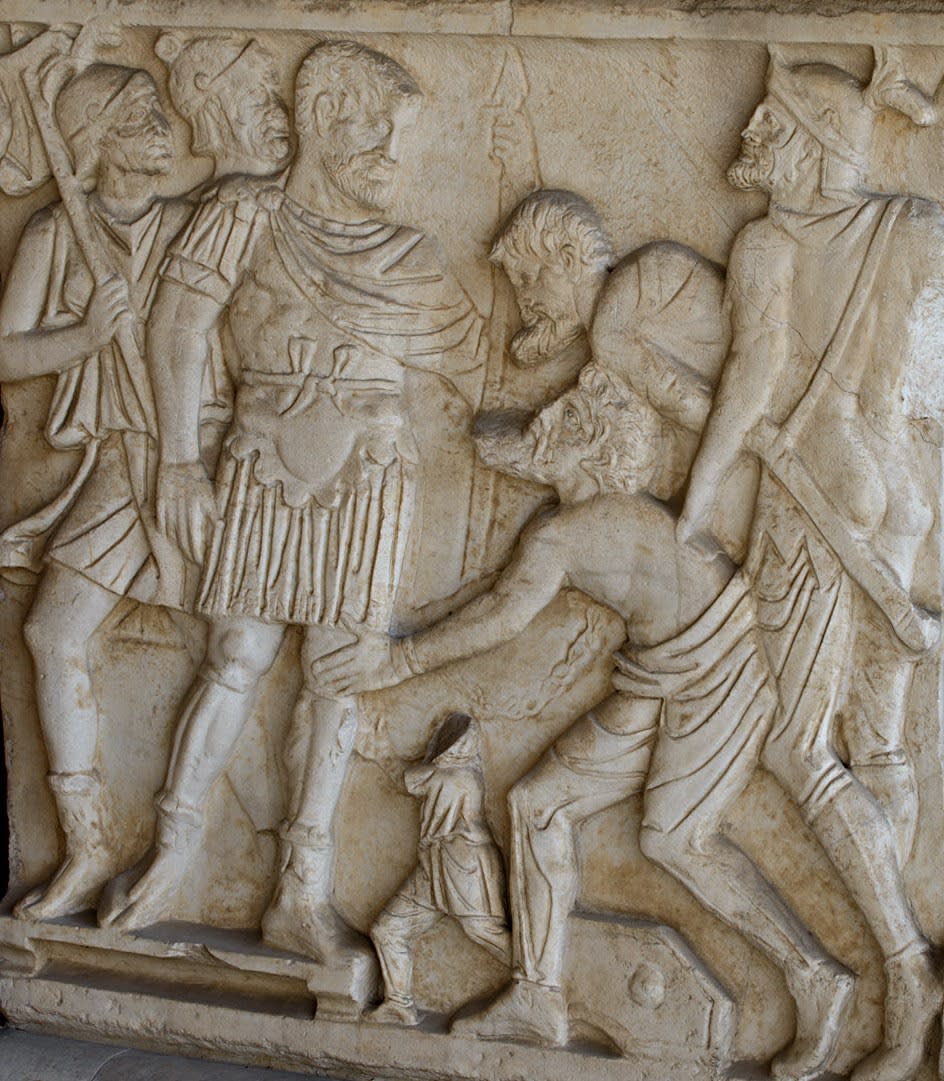 A ROMAN MARBLE SARCOPHAGUS
Circa 190 AD
Camposanto Monumentale, Pisa, inv.no.C21
© 2013. Photo: Ilya Shurygin
There are grave reliefs throughout the empire showing soldiers in military dress, however most of these tend to be provincial and are relatively crude in execution. The subjects are also generally depicted in the more realistic armour and attire of the legions, with phalerae and symbols of their rank adorning their breastplates, holding their everyday weapons such as swords and shields. The size, fine quality, and the entirely elevated, heroic imagery employed on the depiction of the Kallos general, indicates that the subject was a very wealthy and important individual, whose deployment of classicising imagery is closer to that more commonly seen in representations of the emperor or great mythological heroes like Achilles and Aeneas, than of a mere military officer.
A ROMAN MARBLE FUNERARY MONUMENT TO QUINTUS SERTORIUS FESTUS,
CENTURION OF THE CLAUDIA PIA FIDELIS LEGION
Circa 1st century AD
Museo Lapidario Maffeiano, Verona, inv.no. 28160.
© 2011. Photo: Ilya Shurygin.